From the pages of
Sublette Examiner
Volume 7, Number 43 - January 17, 2008
brought to you online by Pinedale Online
---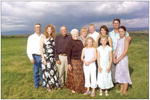 The Sand County Foundation and WSGA's Environmental Stewardship Program have honored Pape Ranches with the 2008 Leopold Conservation Award. Pictured above are David (left to right), Naomi, Norman and Barbara Pape with granddaughters Hadley, Sydney and Logan Pape. In back are Naomi's parents Lorraine (left to right) and Sandy Wise, and Michelle and Fred Pape.

Pape Ranches: Family Wins Conservation Award
Papes' values, ethics recognized with Leopold Conservation Award
by Joy Ufford

Sharing the riches of their ranchlands with wildlife and livestock at the same time is a value instilled in every Pape, whether they were born to the name or not. That respect for nature – and bringing the philosophy into every day's work – is what brought the Daniel based Pape Ranches' family to the attention of certain people who set out to try and honor such ranchers' efforts.

Each year, the Wyoming Stock Growers Association (WSGA) and the Sand County Foundation jointly present the Leopold Conservation Award (named for author Aldo Leopold, who wrote "Sand County Almanac") to a Wyoming rancher "who exemplifies the spirit of this emerging land ethic" of maintaining a relationship between people and their land. Pape Ranches emerged as their choice for the top honor after a nomination application – a beautiful 12-page collection of writings and photos – was compiled and submitted by the Sublette County Conservation Service and the National Resource Conservation Services in Pinedale.

Norm and Barbara

"All of us are being recognized with this honor," said patriarch Norm Pape this week. "Even those who aren't with us anymore. My parents would be really pleased with the way it's turned out ... the hard work of theirs and ours."

Barbara Pape's weaving of conversation with her husband's shows how committed and content the two are with each other and when talking about their family and its ranch. "They started it for the wildlife and livestock and it continued on in a good way," she said of Norm's parents, Lester and Mary Pape. "There's a great satisfaction in looking back at it," he added.

Norm and Barbara's sons David (and his late wife Naomi) and Fred and his wife Michelle, along with three granddaughters growing up on the ranch – Logan, Sydney and Hadley – are part of the every-day fabric of making the ranch work smoothly and run well. Even daughter Jane, who lives in California with husband Chuck and kids Mary Barbara and Joe, is an essential element in spite of distance. Being awarded the Leopold Conservation Award did come as a surprise to Norm and Barbara, in part because the selection committee was very serious about selecting whom they deemed the best recipient for this year's award.

"We hesitated, you know," Norm said, of being asked by friends at the local NRCS and county conservation office if they would be willing to under go the process. "Then we were called and told we were in the top three and would we be available for the judges to come look us over," Barbara said. A serious committee of five came by, enjoyed sweet rolls, toured the ranch's three large holdings and with the nomination form in mind, intently looked to document every Pape Ranches conservation practice described: sagebrush control, wildlife-friendly fencing, grazing management, walk-in hunter management, irrigation improvements and other conservation and environmental activities.

Pape Ranches then & now

The three holdings, known as the Rosene, McDole (summer pastures that are rested) and Home Places, total 10,475 acres of irrigated fields and rangelands. Their cattle herd of 1,000 mother cows and Hereford and Angus bulls, along with calves and yearlings, mean about 2,700 heads' needs for grazing are always being considered. Pasture rotation and resting, along with sagebrush control and Spike mosaic treatments, have brought an increase in forage for cattle and wildlife both when needed. Leased private land and grazing permits round out the grass needed for the herd's success.

The seed was planted when Norm's grandfather, Frederick Pape, bought a homestead from Green River rancher Gibson Blackwell. Next, Norm's two great-uncles homesteaded their own sections by Fredericks' land. "They worked very hard and were very frugal," Norm said of his grandparents. That drive helped them set aside enough to buy more acreage when neighbors offered them chances to buy, which occurred because the Papes even then were recognized as ranchers with a love for the land, livestock and wildlife. "We have to be very grateful for their hard work and foresight," he said.

"Some years they lived on what Grandpa trapped," Barbara added.

In 1917, Frederick bought the uncles' ranches and his son, Norm's father, Lester, took over that land. Further holdings were purchased from the 1930s into the 1960s. "What is now the Pape Ranches began in 1917 when Dad bought the land that Grandpas had bought from the uncles," he said. "They grubbed, they burned it, they subbed it out with water. It's difficult for people to realize that most of the ranch was not like it is now."

"The habitat becomes available to all kinds of wildlife – but it wasn't so, 100 years ago," he added. Willow stands are fenced to keep cattle from grazing themd own, for aesthetic and habitat reasons. "You can't put a value on trees and willows on Forty Rod Flats," Pape commented.

Nowadays by Highway 191, which bisects the Home Place, travelers from near and far often stop and relax while watching antelope, deer, sandhill cranes, sage grouse, muskrats, trumpeter swans andyes, cattle, graze andrest on the Papes' fields, which have always been an integral antelope and mule deer wildlife migration corridor.

"It was just a value of the ranching business for my family, that wildlife would be there," Pape said.

In the early years when moose raided the haystacks, his father joked with a young Norm about having to chase them off. "If you can't deal with the wildlife, we could always go back to Kansas," he related. "I was always raised that wildlife had a place and we had better respect that. That's the way it was – they were there."

Sharing the land

Public access for hunting and fishing has also been a historic part of the Pape family's ranching lifestyle. The family has always allowed hunting, by permission only, in certain parts of the ranch. "We manage the habitat and we allow hunting on parts of the land," Norm said. "We do welcome the public to hunt, if they have their license signed and come and talk to us, and we don't charge."

Pape Ranches has put a chunk of land into a Hunter Management Area overseen by Wyoming Game and Fish; another section is for older or handicapped antelope hunters only. One week, Papes hosted three hunters with walkers and one paraplegic hunter. "And there are other parts where it is strictly picture taking–no hunting," he added. In his time, Lester Pape valued the presence of sage grouse and always left enough brush for them. He also created a walk-in easement where the public could access the Green River to fish or walk.

"People pull off and park, to walk their dogs or eat their lunch," Norm said. "It's another benefit that the public has to enjoy." The new "wildlife-friendly fences" keep cattle in; the 18-inch-high bottom wire allows antelope "to scoot under" and the 46-inch-top wire allows deer to jump over easily. The fences mark property lines, but they are not exclusive fences that repel anyone who interested in seeing the wildlife, taking pictures or talking with the Papes about their ranch. Visitors are common and welcome – if they stop or call ahead.

Honoring the Papes

As part of the Pape Ranches' recent honor, they will be recognized formally at the WSGA annual meeting, June 5-7. Then on July 15 ,they open their doors – and gates – to visiting agricultural and conservation leaders.

As one of six state winners of the Sand County Foundation's Leopold Conservation Award, Pape Ranches will "compete" for a national award. Whether they "win" or not, Pape doesn't care.

As a youngman, he went off to college and served in the military, then came home determined to be a rancher. "I met a wonderful lady, a beautiful lady," he said of his wife. "She was a rural girl from Worland and raised on a farm. She could cook and sew, and we found our place."

Sons Fred and Dave also went off to college, already knowing they wanted to be ranchers, met their future wives there, and began their new families at Pape Ranches. Long-time ranch hands Dick (and Rosemary) Brewer and John May stayed on for years and now, every family member young and old has a place in the ranch's day-to-day seasonal life.

"We work well together and the boys work really well together," Pape said. "Everybody works outside; they run swathers ... and the younger girls run the (hay) rakes. Everybody works hard to make this ranch we're all so proud of."

Photo credits: Pape Family

See The Archives for past articles.
---
Copyright © 2002-2008 Sublette Examiner
All rights reserved. Reproduction by any means must have permission of the Publisher.
Sublette Examiner, PO Box 1539, Pinedale, WY 82941 Phone 307-367-3203
examiner@wyoming.com