From the pages of
Sublette Examiner
Volume 7, Number 43 - January 17, 2008
brought to you online by Pinedale Online
---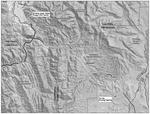 The Lower Valley Energy proposed pipeline runs from near Rim Station, where a small processing plant will be built, through Hoback Basin to Jackson.

LVE 'Pipeline Dream' Comes True
Gas pipeline to run through Hoback Canyon to Jackson
by Joy Ufford

The Bridger-Teton National Forest's (BTNF) Big Piney District Ranger Greg Clark has approved Lower Valley Energy's (LVE) proposal to route a 49.7-mile-long pressurized natural gas pipeline from Rim Station down through Bondurant and on to Jackson through the narrow, slide-ridden Hoback Canyon.

The Final Environmental Impact Statement (FEIS) and Record of Decision (ROD) signed by Clark (and Jackson District Ranger Dale Dieter) on Jan. 4, approves a Lower Valley Energy proposal to build, operate and maintain the pipeline, which will tie into an existing pipeline serving "currently producing fields near Merna or elsewhere in Sublette County," the summary says.

The pipeline will cross the Hoback River nine times (including five in the canyon), the Upper Hoback once and Cliff Creek once, generally following Highway 189/191 and utility corridors, moving gas north from a small gas-processing facility to be built on private land at Rim Station.

It will also cross the highway 19 times on the "Hoback Canyon Highway" and twice near Jackson. On the way, it will pass through Camp Creek and Horse Creek elk feedgrounds after leaving the highway to cut north across public land (avoiding Hoback Junction) and again meet the highway south of Jackson.

Tanker traffic reduced

While the mostly buried pipeline will eliminate 500 or more 240-mile/round-trip tanker deliveries between Exxon's Shute Creek facility south of La Barge and the Jackson destination, a segment will be exposed and possibly vulnerable to Hoback Canyon's numerous rockslides and avalanches (such as those last spring that blocked the highway and river with debris).

Each tanker carries about 10,000 gallons of LNG, equivalent to about 830,000 standard cubic feet of natural gas, and about 655 round-trips by tankers would be needed for transport in 2010.

"Continued reliance on transport of Liquid Natural Gas (LNG) along public highways also could leave the Jackson area vulnerable to occasional interruptions in supply when rockfalls, slides or avalanches make highways impassable," the FEIS summary states. "Protection of scenic, recreational, fisheries or wildlife values that make the Hoback River eligible for designation as a Recreation River would be enhanced by reducing the commercial hauling of LNG along public highways."

The FEIS summary also says a "pipeline incident" would be "catastrophic." "The principal pipeline failure mechanisms are external impact with the pipeline, (corrosion, defects, improper operations)... and natural events such as floods, landslides or other earth movements."

"The six-inch steel pipeline... would be buried at all locations, except at five mainblock valves and for a distance of about 1,500 feet through the Camp Creek Saddle landslide area, where the pipeline would be installed on the ground surface, as recommended by a geotechnical investigation." The pipeline corridor will be inspected by ground or aerial patrol every two weeks to detect new land movements or gas leaks, the FEIS says.

Public, private lands

About 25.4 miles of the pipeline will cross Forest Service and Bureau of Land Management (BLM) lands in and near the Big Piney and Jackson ranger districts. The rest is either state-owned – some managed by Wyoming Game and Fish for winter elk feedgrounds – or private. "Decisions related to the proposed projects are limited to NFS lands," the summary states.

"Mitigation measures" will protect private interests and authorized uses affected by the Proposed Action," Clarks writes in the Record of Decision. "Authorized uses crossed by the pipeline route would be protected or moved to the pipeline trench by agreement of all parties involved."

Three private properties with conservation easements will be crossed; "generally the placement of utilities is not a prohibited use of conservation easement properties," the FEIS says. The conserved properties are River Bend Ranch in Bondurant, Melody Ranch in Jackson and Poison Creek near the Camp Creek area.

Some private properties in Bondurant and other residential areas along the highway will be affected by the route, which in most cases will run outside of the Wyoming Department of Transportation's (WYDOT) highway corridor except for narrow places where it will "encroach" in Hoback Canyon, according to the FEIS. Clark discusses 15 suggested alternate routes or segments that were considered but dropped, and the reasons for those decisions, before his signature gave LVE the green light to pursue necessary permits and final designs.

Quakes don't shake LVE

A geologic hazards survey (2005) included in the FEIS shows four "active or potentially active debris flow deposits" and 19 "active or potentially active landslide deposits" between the Rim and the Jackson destination. The "potentially active" Hoback Fault hovers over several sections, including part of Hoback Canyon.

And LVE isn't worried about earthquakes or landslides?

"We have actually done an unbelievable number of studies, surveys and engineering and we are very, very comfortable with it," said LVE Vice President Chad Jensen of the pipeline route through Hoback Canyon.

"We have spent three years on it so we are pretty comfortable at this point."

LVE plans to begin construction in May, basing its timeline on Hoback River water levels and seasonal restrictions in the FEIS to protect wildlife, Jensen said. It will connect to the existing Williams Gathering System pipeline, several miles east of the highway at Rim Station.

He expects construction of the entire 49.7-mile pipeline to take three months, with a fourth for testing and cleanup.

"This is only a six-inch pipeline," Jensen said. "This will move quickly... This is pretty small stuff."

The project, once estimated at $12 million to $13 million, is now coming in at about $20 million, he added.

As for the Horse Creek and Camp Creek elk feedgrounds, the pipeline will be buried after the feeding program has ended and the following winter, the feedgrounds should function as usual, he said.

Jensen said all but a couple of private landowners affected have reached agreements with LVE for the pipeline. Confusion about condemnation letters from the state has left some Hoback Basin residents wondering if their property will be taken. Jensen said LVE notified each affected owner personally and that letters from the state are connected to WYDOT's future plans to redo the highway through Bondurant.

"They are two very separate projects," Jensen said of the pipeline and road construction. "We have negotiated with every property owner, we still have a couple left (including one at the south end of Hoback Canyon) … that we're still working on."

"Most of the land owners opted for a free gas hookup to the system so they can have natural gas service at their homes in Bondurant," Jensen said. "As a general rule our offer for right-of-way was 20% of market value. However a gas hookup is valued at about $7,000 so most opted for that option. That value is based on the need to put in a pressure reducing station to reduce the pressure down to 7 psi for use in the homes along the route."

FYI

The Lower Valley Natural Gas Pipeline project's FEIS and ROD are available at the BTNF Web site, www.fs.fed.us/r4/btnf/projects/. Once the ROD is published in the Casper Star-Tribune, people or organizations "who submitted substantive comments during the (previous) comments periods" will have 45 days to file an appeal to BTNF Supervisor/Appeals Deciding Officer Carole "Kniffy" Hamilton. "The publication date in the Casper Star Tribune is the exclusive means for calculating the time to file an appeal," says the FEIS.

Appeals can be mailed to Hamilton at: 340 N. Cache, PO Box 1888, Jackson,WY 83001; faxed to: 307-739-5010 or emailed to appealsintermtn-bridger-teton@fs.fed.us.

Photo credits: Map LVE Courtesy

See The Archives for past articles.
---
Copyright © 2002-2008 Sublette Examiner
All rights reserved. Reproduction by any means must have permission of the Publisher.
Sublette Examiner, PO Box 1539, Pinedale, WY 82941 Phone 307-367-3203
examiner@wyoming.com