From the pages of
Sublette Examiner
Volume 7, Number 42 - January 10, 2008
brought to you online by Pinedale Online
---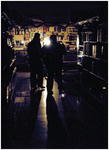 Shoppers search for items on the shelf Thursday evening even though the power outage has them using flashlights to find what they want. Once the power is back on, business continues for the checkers at Ridley's, just without the flashlights.

Who Turned Out The Lights?
Pinedale substation goes down Thursday
by Tiffany Turner

The power outage was hard to miss last Thursday when everyone within 10 miles of Pinedale down Highway 191 and surrounding communities lost power just after 7 a.m. and only retained sporadic intervals of electricity untill ate in the evening, with some areas not coming back until 10 p.m.

"Thursday's power outages in Sublette County resulted from a mechanical failure in a component of the main transformer at Rocky Mountain Power's (RMP) Pinedale Substation," Jeff Hymas of RMP said. "In order to restore full service to our customers, the transformer had to be repaired by personnel from Evanston, who had received specialized training to install the new component. Pinedale, Cora, Boulder, Daniel, Green River Ranches, Bargerville, Sand Draw and parts of Hoback Ranches were affected by the outage.

"Initially, at 7:13 a.m. when the outage began, we had about 3,700 customers without power, "Hymas said. "We were able to reduce the number of customers without power to 1,700 by about 8 a.m. While the transformer was being repaired, we were able to use temporary measures to keep power on for about one-third of the affected customers." Rolling blackouts were planned for the area, but with school still in session and the medical clinic located within town limits, Pinedale garnered much of the power throughout the day.

"We ended up endeavoring to keep power on in Pinedale and try and rotate outages in the other affected communities," Hymas said. "Unfortunately, the temporary equipment was not able to provide sufficient capacity to meet the electric load of more than one affected circuit at the same time. Because of this, affected customers outside of Pinedale were without power for much of the day."

With the exception of a few brief outages during the afternoon and early evening, Pinedale continued to have power throughout most of the day. Restaurants opened to serve the hungry while that power was on, and Ridley's pulled out its generators and spent some time putting together lanterns so customers could continue to shop. You can bet the local bars still invited everyone in for some pool and drinking, since neither requires electricity during the day. The area continued on as close to normal as possible during the intermittent power outages throughout the area (although many shops did lock up to avoid the hassle of the up-and-down power source).

"All 3,700 customers were without power beginning at around 5 pm., in order to reconnect the transformer," Hymas said. "We ran into some problems getting the transformer connected and working properly, but crews were able to restore power to almost all affected customers by 7:21 p.m. – 240 customers in Cora were without power for longer, until about 10 p.m., because of a downed power line.

Although the local papers are weeklies, Pinedale Online and KPIN Radio worked hard to keep the area up-to-date with everything taking place with the power situation throughout the day and most residents were able to remain informed. KPIN's Bob Rule even maneuvered his way up Mt.Airy several times that day to turn on (and off) his backup generator to ensure he was able to broadcast information throughout the area.

"We attempted to notify customers of the problem, and to provide updates and outage safety tips as the situation progressed, by staying in close contact with KPIN Radio and Pinedale Online," Hymas said. "Information was also available to customers who phoned our customers' call center.

"We appreciate our customers' patience throughout the outages, and apologize for the inconvenience caused by the power outages. Our crews in Sublette County worked very hard throughout the day to safely restore power as quickly as possible, and we appreciate their efforts."

Photo credits: Janet Montgomery

See The Archives for past articles.
---
Copyright © 2002-2008 Sublette Examiner
All rights reserved. Reproduction by any means must have permission of the Publisher.
Sublette Examiner, PO Box 1539, Pinedale, WY 82941 Phone 307-367-3203
examiner@wyoming.com