From the pages of
Sublette Examiner
Volume 7, Number 41 - January 3, 2008
brought to you online by Pinedale Online
---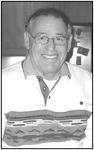 Jack Walter Hayden

Obituaries



Jack Walter Hayden

Jack Walter Hayden, 72, passed away Dec. 18, 2007 in Pinedale. He was born March 12, 1935, in Greeley, Colo., to Dallas W. and Idella R. Hayden. He graduated from La Porte High School in 1952 and joined and served in the Marines in 1957 and was honorably discharged in 1960. He was employed by John Ewing Cattle Company in La Salle, Colo., and was also a commodity trader in Greeley.

He married Jan Johnson on Dec. 20, 1967, in Greeley. Jack not only gained a wife with this marriage, but also a daughter, Veronica (Vicky) and a son, Gordon. Jack officially adopted Vicky and Gordon in the spring of 1968. Vicky was 11 and Gordon was 9. Jack embraced being a "new dad" to these two pre-teens wholeheartedly. Vicky and Gordon have many fond memories of spending time with their parents and with members of their new family in both Greeley and Pinedale. This new family included a grandmother, an aunt and uncle, and four cousins.

Sadly Jack and Jan divorced in the summer of 1978. At that time, Jack permanently relocated to Pinedale. He was employed by Sublette County School District No. 1 as a custodian, pool technician and bus driver. He also drove the activities bus for football, basketball, skiing, fieldtrips and jazz band. There are young people in Pinedale who rode his bus from kindergarten through 12th grade. Jack very much enjoyed driving to these different events, going to as many as possible even when he was not driving the bus.

Jack loved the outdoors and fishing in the Pinedale area. He also was a fan of the Denver Broncos and the Colorado Rockies and enjoyed skiing, cribbage and golf. He was ecstatic when the Colorado Rockies advanced to the World Series this past fall. These interestswere shared with his children Vicky and Gordon.

He is preceded in death by his father Dallas, mother Idella McMillen, brother Jim McMillen and stepbrother Andy McMillen.

He is survived by his children Gordon Hayden of Broomfield, Colo., and Vicky Daub of Englewood , Colo.; sister Patricia Hayden of Casper; brother Tom McMillen of Friday Harbor, Wash.; step-brother Jerry McMillen of Greeley; nephews Bill and Brian Hout of Casper, Tory McMillen of Anacortes, Wash., and Jim, Mark, Drew, Mike and Patrick McMillen of Dalhart, Texas; nieces Kathryn Singey of Boulder, Colo., and Ginny Gibson of Monument, Colo.; one great-nephew and five great-nieces; and all the many people of Pinedale who shared in his life. We all loved him dearly and appreciated his concern and interest in the Pinedale kids who rode his bus these many years, and of course his wonderful sense of humor. We will all miss him. A private family memorial service will be held later in the summer.

Arrangements are under the direction of Covill Funeral Home.

In lieu of flowers, a memorial contribution can be made to a scholarship fund in Jack's name that has been set up at the First State Bank of Pinedale, P.O. Box 519, Pinedale, WY 82941.

See The Archives for past articles.
---
Copyright © 2002-2008 Sublette Examiner
All rights reserved. Reproduction by any means must have permission of the Publisher.
Sublette Examiner, PO Box 1539, Pinedale, WY 82941 Phone 307-367-3203
examiner@wyoming.com