From the pages of
Sublette Examiner
Volume 7, Number 39 - December 20, 2007
brought to you online by Pinedale Online
---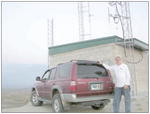 KPIN's Bob Rule stands in front of the building where his new antennae was installed this past summer on Mount Airy.

KPIN Celebrates 10 Years

by Trey Wilkinson

Pinedale goes in for another Wrangler touchdown. Emergency personnel and law enforcement ask all citizens to evacuate their homes. Be sure to bundle up because the forecast calls for dangerously cold snowstorm in the Sublette County area. What do all of these comments have in common? A voice.

The citizens of Sublette County are able to listen to Wranglers athletic events, keep track of weather conditions and so much more thanks to Bob Rule, owner of KPIN and his work at the radio station in Pinedale. Rule and his radio station celebrated 10 years of community service on Sunday.

The beginning of a radio station in Pinedale came about in an unusual way.

"The whole idea of my building a radio station in Pinedale started at the Republican State Convention in Jackson in May of 1994," said Rule, who lived in Cheyenne at the time. "I went to say goodbye to some folks from Sublette County and as I approached them, I heard them talking about how Sublette County did not have a radio station. As an off the-cuff remark, I said to them 'Would you like me to come to Pinedale and build you a radio station?'"

Rule had no idea that his casual question would result in him building a radio station in Pinedale, but it did. It didn't take long for the phone to start ringing. Upon returning to Cheyenne following the convention, Rule received numerous phone calls from Sublette County people, encouraging him to come and build a radio station in Pinedale.

Thanks to people volunteering and helping Rule out, KPIN was built. The initial location of both the studio and the transmitter of KPIN was in the Pine Creek Motel. Rule built a 50-foot radio tower at the motel in order to transmit his programming.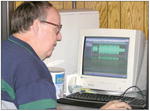 Rule works from his home studio on an ad for the radio.

"The entire back building of the motel was routinely shutdown during the winter, and the heat was turned off," Rule recalled. "I setup the initial studio on the surface of a bed with no sheets or blankets on the mattress, and with the antenna and tower just outside this room. I had everything I needed to operate the radio station."

The actual sign-on occurred in the garage of the motel at 11:58 p.m. on Dec. 16,1997. "Shortly after sign-on, I wanted to drive around to see how the coverage was," Rule said. "You can't believe how disappointed I was when I drove to the Cora Y and the reception pretty much faded out on my car radio. Oh, well ... at least it sounded loud and clear within the town limits of Pinedale."

Shortly after signing the radio station on the air, Rule rented an office in the Knotty Pine Plaza, which is now known as The Summit Building. The transmitter remained behind at the Pine Creek Motel and was moved to the utility room. The studio was connected to the transmitter at the motel with direct leased copper telephone lines from the local telephone company.

KPIN has come along way since signing-on 10 years ago, but it wasn't easy.

Rule received his college degree (bachelor's of science in electrical engineering) from the University of Wyoming and had spent most of his life working in radio and television broadcasting, mostly on the technical end.

"I was told by other broadcasters in Wyoming that Pinedale wasn't large enough to support a radio station and that I'd go broke trying to run one," Rule said. "Well, being I had been an engineering student in college and not a business student, I was too dumb to understand this. So I built the radio station anyway. My idea was that, if I kept the overhead extremely low, the station could make it."

The transmitter Rule used was only 250 watts so the power bill wasn't much of a problem, but staffing proved to be a challenge.

"I certainly could not afford to staff the station during the times it was on the air, so I purchased a Pentium 1 computer, with the largest hard drive available at the time," he said. "It was large enough to hold about 50 songs and a dozen or so ads, and it sure didn't take the computer long to play the 50 songs and star tover."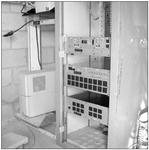 Pictured is the new equipment Rule installed this summer.

Rule used a combination of volunteer help and part-time employees to keep the radio station running and returned home to Cheyenne.

In 2002, it became obvious to Rule that he had personnel problems, so he drove to Pinedale to assess the situation. He concluded he needed to hire a new manager, but that didn't last long.

"I hired one (manager) who only lasted about a week before demanding a pay raise of 100-percent, and that broke two records for my career of being an employer," Rule said. "Number one, I never had an employee ask for a raise after only working for one week, and two, I never had an employee ask for a 100 percent raise."

Unfortunately for Rule, that employee didn't work out.

Meanwhile, back home in Cheyenne, Rule's wife Karen kept wondering when her husband would find and hire a manager and come home.

"Sure, I came home on some weekends, and she and our son David came to Pinedale on some weekends, but most of the time, we were in separate cities...something that neither of us liked very much," he said.

Rule knew something had to be done. He couldn't stay away from his family, so he sold his radio station in Cheyenne (KRRR) as well as his radio station in Laramie (KHAT), and after two years of running KPIN, the family moved to Pinedale.

"We still had a pager company in Cheyenne, but my long-time office manager Lynnette Lyttle, was quite capable of running that business without me," Rule said.

"So we left her and the pager company in Cheyenne and moved our home to Pinedale in August 2004."

Rule has many fond memories over the past 10 years, including the first guest to do an interviewon the radio station in Pinedale, Mayor Rose Skinner.

"I think Rose was quite surprised to be interviewed in an unheated motel room in the dead of winter, with all of the equipment spread out over an un made motel bed," he said.

One of Rule's first major projects when he came to Pinedale in 2002 was relocating the transmitter from the Pine Creek Motel to Mount Airy.

"It was the same 250-watt transmitter, but by placing it on Mount Airy, you could finally hear the radio station in Cora, Daniel, Boulder and even Big Piney and Marbleton if you had a really good radio," he said. "We moved the transmitter to Mount Airy on June 14, 2002."

KPIN's next big move was this past summer when Rule increased the station's power to 4,000 watts.

"This greatly improved the reception in Big Piney and Marbleton, and many other outlying areas, too," he said.

Did Rule ever hire that full-time manager? No.

"I pulled a Dick Cheney and simply hired myself," he said. "The only problemis I didn't just hire myself to be the general manager, but I also hired myself to be the program director, the news director, the morning jock, the chief engineer, the receptionist, the salesman and the janitor. I really don't do a very good job at being janitor."

Even though cleaning isn't his forte, Rule is looking ahead while technology continues to improve and the station continues to progress. Rule recently had Wyoming.com set up a Virtual Private Network system so he couldaccess computer files at KPIN from his home computer.

"That makes it much nicer when I can do much of this late-night work at home now," he said.

And what about the music?

"When we were getting set up to go on the air, I placed survey forms in the convenience stores in Pinedale asking the local folks what they would like to hear on their new radio station," Rule said. "I got two basic responses. About half of those responding wrote down, 'country – country – country.' The other half pretty much wrote down, 'anything but country.' Well that left me in a fix, so we solved the problem by playing a blend of country and oldies."

Rule has devoted a lot his time making KPIN what it is today. In fact, who knows if Pinedale would even have a radio station? Thanks to his commitment, citizens of Sublette County are able to listen to high school athletics, prepare for bad weather, respond to emergencies and so much more.

Other than the long hours, Rule loves what he does.

"People often ask me why I break my back working the long hours to keep KPIN going," he said. "I heard a comment once, 'Find a job that you love and you'll never work another day in your life.' That pretty much describes it. I guess radio is in my blood and always has been."

Photo credits: Bob Rule Courtesy Photo, Bob Rule Courtesy Photo, Bob Rule Courtesy Photo

See The Archives for past articles.
---
Copyright © 2002-2007 Sublette Examiner
All rights reserved. Reproduction by any means must have permission of the Publisher.
Sublette Examiner, PO Box 1539, Pinedale, WY 82941 Phone 307-367-3203
examiner@wyoming.com