From the pages of
Sublette Examiner
Volume 7, Number 38 - December 13, 2007
brought to you online by Pinedale Online
---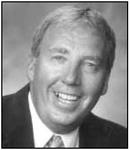 Terry L. Statton

Obituaries



Terry L. Statton

Terry L. Statton died peacefully at his home in Big Piney on Dec. 9, 2007.

Terrance Lloyd was born on March 16, 1947, in Exeter, Ontario, Canada to Gilbert Lloyd and Mabel Dell (Fairbairn) Statton. He lived his early childhood years in rural Canada, moving to Detroit, Mich., in 1958. He graduated from Finney High School in 1965 and served in the U.S. Army from 1967-1970, stationed in Germany. He graduated from Chadron State College in August 1972 and married Patty Schmiedt that same week. He was a football coach, high school history and physical education teacher in Nebraska, Iowa and Wheatland before earning his masters in administration at Chadron State. He served as school administrator in Sturgis, S.D., Riverton, Wheatland and Cody from 1980 through 2000. In 1996 he was selected as Administrator of the Year for the State of Wyoming. From 2000-2004 he and his wife worked in Cairo, Egypt and then Manama, Bahrain for American International Schools. They moved back to the United States and settled in Big Piney, where he was the high school principal.

He is survived by his wife; two sons, Trent, his wife Kelly and children Shelby and Evan of Cody, Grant of Laramie, his mother Mabel Statton of Lake Havasu, Ariz.; a brother, Randy and his family from Peru, Ind., his in-laws Jacque and Dorothy Schmiedt from Wheatland; his wife's brother, Jim and Linda Schmiedt from Casper; his wife's sister, Nancy Hall of Mesa, Ariz.; three nieces and two nephews.

He is preceded in death by his father Gilbert and sister Linda Statton.

See The Archives for past articles.
---
Copyright © 2002-2007 Sublette Examiner
All rights reserved. Reproduction by any means must have permission of the Publisher.
Sublette Examiner, PO Box 1539, Pinedale, WY 82941 Phone 307-367-3203
examiner@wyoming.com