From the pages of
Sublette Examiner
Volume 7, Number 36 - November 29, 2007
brought to you online by Pinedale Online
---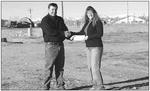 Ted Kelly from EOG Resources presents a check to Chairwoman of the Recreation Board Angie Smith on Nov. 20 at the site where the recreation center on the east side of Marbleton will be built. The check is for $4,500 and is an "initial" contribution from EOG.

Initial Donation Keeps Rerceation Center Moving Forward

by Trey Wilkinson

Three years ago discussions surfaced for bringing a recreation center to the Big Piney/Marbleton area. On Nov. 20 another step toward making the recreation center a reality took place when EOG Resources presented the Big Piney/Marbleton Joint Powers (BPMJP) Board a checkin the amount of $4,500 as an "initial" donation.

Chairwoman of the BPMJP Board Angie Smith is one of a number of people who is excited about the "initial" donation as well as the project as a whole.

"They (EOG) hope this recreation center is a success and wanted to help keep things moving," Smith said.

Keeping things moving has been the plan for the past three years, after a community meeting was held (three years ago) to see if there was a strong enough interest by members of the community to have a recreation center. Smith recalled at the initial meeting "the room in the back of the Marbleton Inn was packed."

"All that attended showed a huge interest and felt our community needed a positive, family-oriented facility and from there the process began," she said.

According to Smith, following the meeting, a planning committee was formed, who then put a survey together with a list of activities to pick from, which led to the design of the building. Next, a land committee was formed, which later reported that eight acres in Eidens Subdivision was for sale.

"Other properties were considered but the eight acres in Eidens Subdivision was the final pick and purchased by the County, Town of Big Piney and Town of Marbleton," Smith said. The Town of Marbleton and the Town of Big Piney each donated $600,000 to the project in 2006 and 2007 while the Sublette County Commissioners paid for architect fees and budgeted $5 million for the project this year. Smith said the BPMJP Board has also contacted some oil and gas industry companies.

"(The companies) are very interested in the project," she said. "We will be meeting with them as well as other oil and gas industry companies after the first of the year to update them on the progress of the recreation center and propose a donation request. We are also currently seeking grant money possibilities."

"The donation from EOG is encouraging and exciting because we haven't had any initial moneyh anded to us," BPMJP Board member Jackie Arthur said. "We've had a lot of verbal commitments, but seeing the money shows that we're moving forward. And hopefully now we'll have others stepup to the plate and make people realize this is going to happen."

Smith is hopeful that construction on the newrecreation center will begin in the summer of 2008 and said completion is scheduled approximately 14 months after breaking ground.

The recreation center will have plenty to offer the community. Plans include a bowling alley, teen hangout room (TV, couches, computers), yoga/dance class room, one full size gym, one auxiliary gym, racquetball court, weight room, multi-purpose room (birthday parties, meeting room, etc.), a suspended walking/ running track and a rock climbing wall that Smith said "will be the first to catch your attention upon entering the facility."

The recreation center will be open for anyone and everyone. Smith said there will be usage fees that will be disclosed at a later date, however, "it will be a reasonable fee." Smith and the rest of the board have their sights set on continuing to move forward and pursue funding for the project. Even EOG is interested in the possibility of providing more funding.

"Ted Kelly (local representative for EOG) said there is interest in more funding," Smith said. "We plan to approach them as well as many other oil and gas industry people after the first of the year. We are currently working on a proposal packet to go to each of them with."

"EOG has always been a great sponsor in the BigPiney/Marbleton area," Arthur said. ith a need for positive activity/ environment for children and families in the Big Piney/Marbleton area the recreations center seems to make perfect sense.

"Whether it be a game of basketball, racquetball, workout/exercise facility, a place for our teens to hangout, a place for our growing dance class to practice, a large area for our USA wrestling program or bowling, (the recreation center will) provide a place for a much needed after school program and allow everyone in the community a place to enjoy activities outside the home in a family oriented atmosphere," Smith said.

Arthur said the project is moving into another phase, which includes policy and procedures and looking at employment among other things. She praised Smith for all the work she has done.

"Without Angie Smith I don't know where we'd be," Arthur said. "She has gone above and beyond the call of duty."

Photo credits: Angie Smith

See The Archives for past articles.
---
Copyright © 2002-2007 Sublette Examiner
All rights reserved. Reproduction by any means must have permission of the Publisher.
Sublette Examiner, PO Box 1539, Pinedale, WY 82941 Phone 307-367-3203
examiner@wyoming.com