From the pages of
Sublette Examiner
Volume 7, Number 32 - November 1, 2007
brought to you online by Pinedale Online
---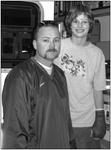 Sublette County EMS Supervisor Wil Gay and his son, Nick, 12, hope to set good examples for others by using their seatbelts.

Atv Passenger,12, Knows Value Of Seatbelt Use

by Joy Ufford

Friend returns home this week with multiple injuries

In three recent vehicle rollovers, Sublette County EMS Supervisor Wil Gay counts five injured patients: one died, two were lifeflighted to regional hospitals and two received minimal injuries. Guess which two were wearing seatbelts?

Gay, who is a member of the Wyoming Seatbelt Coalition, knows one of the seatbelt users very well – his own son, Nick, 12, who was in an Oct. 13 Polaris Ranger accident in Bargerville.

Father and son met with reporters Monday afternoon to stress the importance of wearing seatbelts and helmets while in any vehicle, at any speed.

"Somehow we've got to push seatbelt safety and seatbelt use," Gay said. "To have this happen to one of my kids... two kids in the same vehicle, one wearing a seatbelt and one not." The Ranger's driver, Nick's friend Klay Jones, 12, also of Bargerville, wasn't strapped in and when the six-wheeler rolled after going into the ditch, he was life-flighted to Idaho Falls, where he was stabilized and then flown on to Primary Children's Hospital in Salt Lake City.

Jones, who was ejected in the path of the rolling Ranger, suffered a broken arm, broken leg, five broken ribs, a broken shoulder blade, injured vertebrae and bruised lungs, according to Gay, who was given permission by Brad and Karen Stepp to discuss Klay's accident. It had to have rolled over the top of him," Gay said.

Fortunately, Gay reported Monday, Klay will be arriving home this week to continue recovering from his injuries. In contrast, Nick is sporting a purple cast on a broken hand.

He fastened his seatbelt when they got in the Ranger, he said, and told his buddy he should fasten his too.

"He's like, 'No, I'll be fine,'"Nick said. Nick said most of the kids he knows don't wear their seatbelts either and his opinion of that is this: "I tell them they're stupid."

How did a 12-year-old learn the lesson that so many drivers and passengers prefer to ignore?

Nick came in to see his father one day as EMTs watched training videos which featured horrific crashes and injuries sustained by people not wearing seatbelts, his father said.

"My kids, they watch them too," he explained, saying that the videos are considered too graphic to show a general student body.

When Nick got in the car with his father to head home, he looked at him and said, "Don't worry."

He fastened his seatbelt without complaint and has been doing so since. "The videos made that much of an impact on him," Gay said.

Many accidents happen on days just like Oct. 13, in daylight hours, on straight dry roads, he added. In rollovers, people without seatbelts are often ejected from a vehicle ahead of its path, Gay said. "You're not better off to get thrown out," he said. "The body goes first, then the car follows."

While the Polaris Ranger had seatbelts, many ATVs, snowmachines and dirt bikes don't. That's when wearing a helmet is essential, Gay said.

"A broken arm or leg recovers," he said. "You damage the brain, and you're at the mercy of God at that point."

Statewide, Wyoming Department of Transportation surveys show that young males in pickups are least likely to buckle up, although there is a statewide law. "They don't do it,"Gay said. "You know a lot of that is attitude ... 'nothing's going to happen.'"

In 20-plus years, though, Gay said he has only seen one fatality with the person wearing a seatbelt, and that occurred when the vehicle rolled through rocks and landed sideways on a boulder.

"I would rather not have my wife and kids question whether I would have lived if I had it on," he said of his determination to set a good example.

As a result of this accident, families hope to educate younger kids about the need for safety precautions like seatbelts and helmets when in or on any motorized vehicle. They are discussing a campaign to encourage seatbelt use, and they praise companies like EnCana, which just instituted an automatic "firing" penalty for employees not wearing seatbelts. "It's a proactive step toward seatbelt safety," Gay said.

Photo credits: Joy Ufford

See The Archives for past articles.
---
Copyright © 2002-2007 Sublette Examiner
All rights reserved. Reproduction by any means must have permission of the Publisher.
Sublette Examiner, PO Box 1539, Pinedale, WY 82941 Phone 307-367-3203
examiner@wyoming.com