From the pages of
Sublette Examiner
Volume 7, Number 31 - October 25, 2007
brought to you online by Pinedale Online
---
Obituaries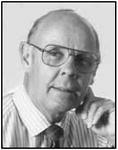 Eugene H. Raney
Eugene H. Raney
Dr. Eugene H. Raney, age 80, of Sarasota, Fla., passed away on Tuesday evening, Oct. 16, 2007, at Evergreen Nursing Home in Shawano, with his family at his side. He was born on Oct. 11, 1927, in Effingham, Ill., to the late Jeremiah and Marie (Greuel) Raney.
After graduating from Effingham High School in 1945 Gene served his country with the Navy at the end of WWII. Gene went on to graduate in 1955 from the University of Illinois School of Medicine and later served an internship and residency in obstetrics and gynecology at Cook County Hospital in Chicago. On April 21, 1956, he married Joan Scheve at Holy Name Cathedral in Chicago, they recently celebrated 51 wonderful years of marriage. Dr. Raney began practicing medicine in Appleton, Wis., in 1959. Between medical arts clinics and private practice he cared for patients in Appleton for a total of 31 years. Just last week Gene celebrated his 80th birthday, along with his twin brother, Tom. After retiring, Gene enjoyed playing tennis and golf, outdoor activities with his family, and spending his summers at the cottage on LaMotte Lake.
He will be sadly missed by his loving wife Joan; his children, Keith (Kaidi) Raney, Pinedale, Brian (Liz) Raney, Egan, Minn., Patrick Raney, Pinedale, Jeanne (Dave) Raney-Fallon, Pinedale; grandchildren, Conor and Caleb Raney, Elise and Drew Raney, Liam, Ceili, Sarah and Brooke Fallon; his twin brother Thomas Raney, Mahomet, Ill.; sisters in-law, Josephine Raney, Effingham, Ill., Jane Raney, Albuquerque, N.M., Clair (Dan) Anderson, Frewsburgh, N.Y.; as well as numerous nieces and nephews. In addition to his parents, he was preceded in death by his brothers, Donald and James; and his sister-in-law Marilyn Raney.
Funeral services for Dr. Raney will be held at 5 p.m. on Saturday, Oct. 20, 2007, at the Wichmann Funeral Home (537 North Superior St.). Friends may call on the family at the funeral home on Saturday from 2 p.m. until the time of the service. Interment will take place in St. Anthony Cemetery in Effingham, Ill., on Monday, Oct. 22, 2007, at 2 p.m. In lieu of flowers, donations in Gene's name can be made to Heartland Hospice or to a charity of your choice.
See The Archives for past articles.
---
Copyright © 2002-2007 Sublette Examiner
All rights reserved. Reproduction by any means must have permission of the Publisher.
Sublette Examiner, PO Box 1539, Pinedale, WY 82941 Phone 307-367-3203
examiner@wyoming.com