From the pages of
Sublette Examiner
Volume 7, Number 30 - October 18, 2007
brought to you online by Pinedale Online
---
Obituaries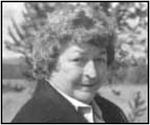 Donna Smith
Donna Smith
Donna Jean Smith, 68, passed away Oct.10, 2007, at Eastern Idaho Medical Center. She was born Aug. 31, 1939, in Rock Springs, to Richard and Dorothy Hecox. Donna lived her whole life in Kendall Valley. She attended Kendall Valley School through the eighth grade and completed her high school years at Pinedale where she graduated. She attended business school in Denver.
On Dec. 14, 1958, she married Babe Krause. To this union were born three children, Disney Lee, Lori Ann and Festus. They worked for the Circle S Ranch for years where Donna cooked on the ranch, pack trips and hunting camps before her and Babe started their own outfitting business, the Flying K Guest Ranch.
Donna married "Smitty" on July 16, 1977, in Kendall Valley. They lived in Rock Springsf or a while before returning to Kendall Valley to run The Place, which they did for about five years.
She then went to work at the Box R Ranch as a cook and secretary for several years. She cooked for Elk Ridge Lodge when they first opened then went to work for the Circle S Ranch as cook and secretary, which she was doing until recently.
Donna was a Past Matron of Pinedale Chapter #39 Order of Eastern Star where she shared the East with her father, Richard. She loved cooking and doing crafts. She was famous for her pinecone wreaths and bark birdhouses. She loved the outdoors, picnicking with family and taking drives.
She is survived by her mother, Dorothy Hecox; sister, Betty Lou McLoughlin; her three children, Disney Brunette, Lori Moore and Festus (Christi) Krause; six grand children, Kendall, Jake, Sage Brittney, Jamie Jo and Cora; two nieces, LaDonna and Cindy; and nephew, Jim. She was preceded in death by her father, Richard; brother, Dick; and brother-in-law, Melvin.
A memorial service will be held Saturday, Oct. 20, at 11 a.m. at the Community Congregational Church. In lieu of flowers, donations in Donna's honor may be sent to Home Health, Box 788, Pinedale,Wyoming 82941 or the Kendall Valley Fire Department, Box 252, Cora, WY 82925.
See The Archives for past articles.
---
Copyright © 2002-2007 Sublette Examiner
All rights reserved. Reproduction by any means must have permission of the Publisher.
Sublette Examiner, PO Box 1539, Pinedale, WY 82941 Phone 307-367-3203
examiner@wyoming.com