From the pages of
Sublette Examiner
Volume 7, Number 3 - April 12, 2007
brought to you online by Pinedale Online
---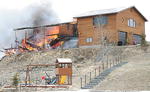 This devastating fire tore through a Pinedale residence Tuesday morning. Strong winds hampered firefighters' efforts.

Pinedale home goes up in flames

by Tiffany Turner

"Everybody did a great job and nobody got hurt," stated Fire Warden T.J. Hunt about the fire that blazed through a home just past the golf course in Pinedale on Tuesday afternoon.

Emergency crews began responding to the incident around 11:30 a.m. on Tuesday and the fire was reported completely out by 3 p.m. Hunt reported no one was inside when the fire started. Firefighters from the Pinedale, Daniel, Boulder, Kendall and Big Piney/Marbleton volunteer departments were all present to lend a hand.

With the fire out, Hunt affirmed they would begin overhaul operations and investigations Tuesday evening. Further information has yet to be released.

Photo credits: Sheri Nolan

See The Archives for past articles.
---
Copyright © 2002-2006 Sublette Examiner
All rights reserved. Reproduction by any means must have permission of the Publisher.
Sublette Examiner, PO Box 1539, Pinedale, WY 82941 Phone 307-367-3203
examiner@wyoming.com