From the pages of
Sublette Examiner
Volume 7, Number 28 - October 11, 2007
brought to you online by Pinedale Online
---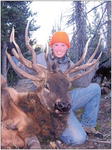 Katie Bright, 15, of Pinedale, was surprised to find that her first elk, a seven point bull, had two completely separate sets of antlers.

Is It A 7-Point Bull, Or A 2 By 3…and A 5 By 4?

by Joy Ufford

Pinedale teen bags unusual bull elk, her first Katie Bright, 15, and her dad Kim were winding up their first day of their elk hunting Sept. 30 as the sun was sinking lower and time was running out.

They had spent the morning and a good part of the late afternoon watching a small group of three bull elk wander slowly closer to where they were watching and waiting for a shot. One, they could see,was bigger than the others. Katie didn't really care much about a trophy. She had hunted before without getting her elk and she was just hunting for meat.

The bull she brought down just before sunset had looked like a good prospect when he was 700 to 800 yards away with two others. Because these were the only elk they had spotted that day and a short weekend was all the time they'd have to hunt, father and daughter decided to go for the largest of the three bulls.

"We saw him that morning and watched him," she said. "He was with a couple other bulls that were smaller. Sowe went back that night." Her dad, Kim, started cow-calling and the bull bugled back, once. They watched through binoculars as he wandered closer, to within a couple hundred yards.

Katie said as she looked through her binoculars, there was a golden glare around him. "He just kept coming closer, and turned broadsides," she said.

She couldn't yet see what was going to make this bull elk different possibly than any other seen in Sublette County.

"I didn't care what he had," she said, referring to antlers. "I was just going for the meat."

She took her shot at 130 yards and dropped him, and they walked down see her first elk. When they reached him, Katie stopped to thank God for the clean shot.

Then, what they saw in front of them really registered.

"Whoaa, that's kind of weird," Katie recalled thinking when she saw that her big-racked bull actually had two sets of antlers – from two separate and distinct buttons on each side of his head.

The Pinedale teen said she hadn't shot much for about three years but did a lot of practicing when she was 12. Being brought up around the world of outfitting and hunting – her parents ran Boulder Lake Lodge and her dad guided hunters – she always wanted to bring home meat for the family, too.

When the Brights got back to their friends' camp that night, the friends figured she must have bagged her elk. "Oh, I got a bull," she replied casually when asked.

They began asking how big he was. "He's a two by three," Katie replied. Congratulations were offered and Katie paused again.

"And a four by five..."

"You got two of them?" someone asked.

"No, just one," the Brights said.

"'What are you talking about,'" they asked, puzzled by her comments.

"We just let them think about it," she said, remembering their confusion.

Finally she broke down.

"It's a seven by seven nontypical but he's actually got four antlers."

Their friends "bubbled over in excitement," she said.

When asked where they'd found such an unusually antlered elk, Kim simply said, "You can just say in the mountains. Not that there's going to be another one."

"There were only three elk up there anyway," Katie added. (In fact, a friend had seen the same bull the previous hunting season and dubbed him "the Freak.")

Not only is this bull's meat going in the freezer but his head will be hanging on a wall. Kim caped out the bull, estimated by a Wyoming Game and Fish warden to be about 4 years old.

"It's once in a lifetime," Kim said.

Katie said she would still focus on hunting for meat. Adults who see her bull congratulate her, although one youngster in her kids' group at Pinedale Bible Church was awestruck that a "girl" shot the elk.

"Most people who know me, know I'm a pretty backwoods country bumpkin from Pinedale," she said with a smile.

The father and daughter both consider the unusual bull and the hunting trip as things to appreciate. "I just praise God for this gift," Katie said.

Her father thought for a second. "It was a gift – and a good time hunting with my daughter," he said. "I'm thankful for that."

Photo credits: Kim Bright

See The Archives for past articles.
---
Copyright © 2002-2007 Sublette Examiner
All rights reserved. Reproduction by any means must have permission of the Publisher.
Sublette Examiner, PO Box 1539, Pinedale, WY 82941 Phone 307-367-3203
examiner@wyoming.com