From the pages of
Sublette Examiner
Volume 7, Number 27 - September 27, 2007
brought to you online by Pinedale Online
---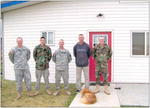 SSG Kevin Hill (left to right), PVT Derrick Lehman, SGT Tim Larimer, SPC Ron West and PVT Grant Degraw pause for a picture in front of the Essingtons' newly sided home.

Soldier In For A Guarded Surprise

by Tiffany Turner

Nearly a year and a half ago, while in the middle of putting an addition on his family's home, Tadd Essington was deployed to Iraq. As a 15-year member of the National Guard, Essington had to put down everything he had been doing, say goodbye to his wife and kids (they have three: 7-year-old Bethany, 2-yearold Ashlynn and Stephen who is almost 6) and catch a plane halfway around the world to serve his country.

"My husband...was deployed June 30, 2006," his wife Cassie said. "At that time, he was in the process of putting an addition onto our house, and that had to be put on hold when he got called to Iraq."

Meanwhile, SSG KevinHill, a member of Essington's National Guard unit, visited with the family and saw Essington's home's need for siding and decided to do something about it. Five members of the unit who had not been deployed for various reasons (such as recruitment) made a trip to Boulder and finished the siding.

"They saw a need of a fellow soldier and his family and stepped in to fill that gap," Cassie said.

She added that everyone chose to keep it a secret from her husband, who will be returning home next week. "I know this will mean a great deal to him," Cassie said. "We can't wait for him to come home."

Cassie and the kids are incredibly appreciative of the soldiers' kindness and are simply waiting in anticipation for their husband and father to make it home.

"I am very thankful to the soldiers for being willing to go the distance to help us out," Cassie said. "These soldiers do so much for our country and they really do care about each other – they are a great group of people."

Photo credits: Cassie Essington

See The Archives for past articles.
---
Copyright © 2002-2007 Sublette Examiner
All rights reserved. Reproduction by any means must have permission of the Publisher.
Sublette Examiner, PO Box 1539, Pinedale, WY 82941 Phone 307-367-3203
examiner@wyoming.com