From the pages of
Sublette Examiner
Volume 7, Number 25 - September 13, 2007
brought to you online by Pinedale Online
---
Rainfall can't fix longterm drought

by Tiffany Turner
After months of drought captured Sublette County this summer, the recent August rainfall that resulted in mudslides and flooding in neighboring areas felt like the answer the community had been hoping for.

Percipitation in August 2007

While the rain did push many of the towns in the area above historical records for the month and the rest at or near their average, the county remains well below rainfall levels that would be considered an average year and not a drought.

"In the short term, Sublette County and surrounding areas tend to be well above average," said Steve Gray, Wyoming state climatologist. "This is especially true in northern parts of the county where some areas may have received as much as 200 percent (or more) of the historical average for mid-August through early September."

"That said, this is usually a dry time of year, and it doesn't takemuch total precipitation to make a good showing versus the historical averages,"Gray added.

When looking at maps provided by the National ClimateData Center (NCDC) on the Standard Precipitation Index (SPI), a way of measuring drought that, according to the NCDCWeb site, compares "supply (precipitation), demand (evapotranspiration) and loss (runoff)," one notices that, with the exception of August's rainfall, the area of Sublette County remains fairly arid.

"This recent rain didn't do much to relieve long-term deficits," Gray said. "If for example, you look at the amount of precipitation Sublette usually receives from March 1 through this day in September, this year (it's) running at 50 to 70 percent of average, and that's after the recent rains." Gray added that the same deficit holds true as you look at a two-to three-year time windowof Sublette County.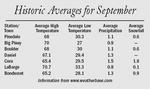 Historic Averages for September

For the month of August, Sublette County lies within a region considered moderately moist, but as the previous months become figured in, the county drops inmoisture levels with a near normal SPI for the June to August range. The county as a whole has been abnormally dry since last August (with the nine month period since the previous November evendrier) and severely dry when looking at the SPI for the last two years.

The NCDC explains that due to the many different facets that must be considered before labeling any time elapsed a drought, be it short-term or long-term. The NCDC also explains that it frequently happens that a long-term drought is interrupted by short-term wet spells. This seems to be where Sublette County currently resides: a long-termdrought interruptedby the short Augustwet spell.

"Generally speaking, we need a cold winter with normal to above normal snow pack and a cool, wet spring before we make any serious headway on this drought," Gray said.

The National Oceanic and Atmospheric Administration (NOAA) generally makes climate predictions three months in advance, so it will be several weeks before any insight is offered as to what the coming winter will provide. As for September, the NOAA Climate Prediction suggests that Sublette County has a higher than normal chance of drier conditions.

"There is no clear indicator for upcoming temperatures, but recent trends would place us at or slightly above historical averages," Gray said.

As the temperatures rise and precipitation slows,many begin to think towards the growing concern of global warming that has hit headlines over recent years. "Attributing any particular climatic event or even the climate of a particular year or season to global warming is a very tricky business,"Gray said. "However, what we've seen this year and for several years during this current drought is right in line with predictions for future climate change.

"More specifically, the weight of scientific evidence points toward earlier springs and longer growing season. This means, in turn, that snow packs will melt off the high country earlier, leaving less water in the streams and increasing late season fire danger. There is also growing evidence that global warming could change seasonal weather patterns – we might, for example, see more rainfall in the summer at the expense of snow over the winter months.

All in all, I think it will be a very long time before we can say if this drought and its related impacts are driven by or amplified by climate change, but it may very well provide a preview of things to come," he added.

See The Archives for past articles.
---
Copyright © 2002-2007 Sublette Examiner
All rights reserved. Reproduction by any means must have permission of the Publisher.
Sublette Examiner, PO Box 1539, Pinedale, WY 82941 Phone 307-367-3203
examiner@wyoming.com