From the pages of
Sublette Examiner
Volume 7, Number 1 - March 29, 2007
brought to you online by Pinedale Online
---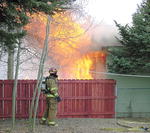 This house located on 367 North Tyler St. went up in flames late Friday morning.

Devastating Fire
Fire guts Pinedale home
by Trey Wilkinson

Black smoke filled the air and visible flames engulfed the south side of a Pinedale residence late Friday morning.

According to Sublette County Fire Warden TJ Hunt, fire personnel were dispatched to a house located at 367 North Tyler St. at approximately 11:20 a.m.

Hunt said false ceilings (often found in older houses) made the fire difficult to control.

"Once the fire gets seated in those areas it makes it difficult to get to the fire," he said. "I could tell early that we couldn't get water to the fire and we needed more help. One of the dangers with a fire like this is the manpower needed once the fire gets established."

Hunt commended everyone who helped control the fire, including fire fighters from Daniel, Pinedale, Boulder, Big Piney, Kendall Valley and Bondurant along with the Sublette County Sheriff's Office.

According to Hunt, the fire was called controlled at 1:30 p.m. and did "extreme damage" to the house.

Hunt along with Shad Cooper, fire investigator and trainer for the State Fire Marshall's Office, are investigating the cause of the fire.

"From our investigation, the cause of the fire is undetermined at this point due to the intensive fire damage left in the structure of the home," Hunt said. "Most of the evidence we are looking for has been destroyed, which makes it difficult to pinpoint the cause and origin."

According to Hunt, no injuries were sustained in the fire.

Hunt said a report would be filed at a later date.

Photo credits: Trey Wilkenson

See The Archives for past articles.
---
Copyright © 2002-2006 Sublette Examiner
All rights reserved. Reproduction by any means must have permission of the Publisher.
Sublette Examiner, PO Box 1539, Pinedale, WY 82941 Phone 307-367-3203
examiner@wyoming.com