From the pages of
Sublette Examiner
Volume 4, Number 9 - May 27, 2004
brought to you online by Pinedale Online
---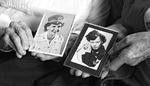 Photos of Olga Quealy and Wilma Kaul when they were women in the armed forces.

Remembering those who served - Women in the armed forces

by Janet Montgomery

During World War II, more than 250,000 women opted to enlist in the service as the armed forces gradually warmed to the idea of allowing women to manage home-front duties, serving in battalions such as the WAAC, WAC, WAFS, WASPS, SPARS, and the WAVES.

The initial approval for women to join the armed forces came in the wake of Pearl Harbor with the consent of Congress in the spring of 1942.

For Pinedale residents Wilma Kaul and Olga Quealy, it was a patriotic feeling that led them to enlist.

Kaul grew up in Bondurant and signed up for duty with the WAVES on her 20th birthday in 1943.

"It was just one of the things that I decided I wanted to do," Kaul said. "I wasn't going anywhere with my life ... I didn't want to go on with college, and so I thought that was a good idea."

The WAVES, Women Accepted for Volunteer Emergency Service, was part of the U.S. Naval Reserves that reached its peak with about 86,000 enlisted in August of 1945.

After signing up in October, Kaul was called to duty in November. She traveled to Rock Springs, where she took a train, which gathered more girls along the way to Hunter College in New York City for basic training.

Kaul said she didn't attend training school after basic, but rather opted to study on her own after she was stationed on an island near Long Beach, Calif.

"I did my own studying and learned to be a yeoman," which is a secretary, she said.

Kaul worked in the ship's service office and later worked in the discharge office. Kaul said that she liked her two-and-a-half years of service very much.

"Because I am a person who likes to have things in order, I enjoyed the regiment," she said.

However Kaul added that breakfast during basic training was not her favorite time.

"After I got out of (basic) training and didn't have to go to breakfast, it was just fine," she said. "I didn't like to get up and go to breakfast."

Kaul was the oldest and the first in her family to sign up for the armed forces. Both of her brothers enlisted with the Navy as well, she said.

Ellen Reed of Pinedale also had duty as a WAVE, while Olga Quealy was a member of the Marine Corps.

The 20,000 women who enlisted in the marines, despite the "tougher training course" than in other branches of the service, were given no catchy name. They were just women marines.

Quealy said that she enjoyed her two years of duty, serving as a secretary to the chief of staff at a Marine Corp Airbase in North Carolina. One of the perks of being assigned to the general's office was escaping K.P., or kitchen cleanup, duty.

Recalling the day she enlisted in 1944, the then-28-year-old said that she stepped onto the elevator with a man and asked to get off on the floor where the Marines' office was located.

"He gave a look at me like 'What are you doing here?'" she said, as he apparently questioned if she would be able to meet the height requirement for enlisting. Quealy was just 5 feet tall when she went in to take the general exam for the Marine Corps.

"I must have passed," she said. "They took me in."

Quealy reached the rank of technical sergeant before ending her stint in the service and receiving an honorable discharge in 1946. While she had planned to stay on at the base as a civil servant, an illness in the family called her home to Kemmerer.

Both Quealy and Kaul said that they met people from all over, and kept in touch with their respective groups, which have dwindled in number over the years.

"I'm the only one left," Kaul said of seven ladies in her group who ran around together.

A World War II Memorial dedication is scheduled to be broadcast on both the History Channel and C-Span with the actual memorial dedication set for Saturday, May 29, at 2 p.m. eastern time or noon mountain time.

(Information used for this article about the WAVES was gathered from the World Wide Web.)

Photo credits: Delsa Allen

See The Archives for past articles.
---
Copyright © 2002, 2003, 2004 Sublette Examiner
All rights reserved. Reproduction by any means must have permission of the Publisher.
Sublette Examiner, PO Box 1539, Pinedale, WY 82941 Phone 307-367-3203
examiner@wyoming.com