From the pages of
Sublette Examiner
Volume 4, Number 21 - August 19, 2004
brought to you online by Pinedale Online
---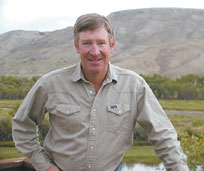 John Linn


Linn defeats Johnston

by Cat Urbigkit

John Linn defeated incumbent Gordon Johnston three-to-one for the Republican nomination for Sublette County Commission in Tuesday's primary election. Linn received 952 votes for Johnston's 300. Louie Tomassi and Judi Adler tied for third with 237 votes each, followed by Courtney Skinner with 138. Linn will now face Democrat Bob McCarty in November's general election. McCarty received 108 votes in Tuesday's primary.

Two incumbent Rural Health Care District Board members will retain their non-partisan seats on the board: Incumbents Walt Bousman received 1,145 votes and Garry Eiden Sr. received 1,014 votes. Challenger Robin Miley received 852 votes, so did not win a seat on the board.

The race for the Republican nomination in Senate District 16 was one of the most contested contests, with Pat Aullman of Thayne coming out on top with 1,069 votes. Mike Vinson received 1,019; Steve Duerr 869; Vince Zimmer 712; and Ceci Clover 502. Lincoln County votes really decided this race, since that's where the major voting block of the district is located. In Sublette County, Duerr came out on top, with Vinson a close second.

Aullman will face Democrat Jerry Bosch in the November general election. Bosch received 479 votes in the Democratic primary.

State House District 20 may have a new Representative: Kemmerer's Kathy Davison. Davison received 873 votes compared to Frank Johnson's 848. If there are no eligible Democratic write-ins for this seat, Davison will have no challenger in November, winning the seat at this point. Sublette County voters decided this seat, since Johnson received more votes in both the Lincoln and Teton county portions of the district.

Republican Stan Cooper will challenge incumbent Democrat Larry Caller for the State Senate District 14 seat in November.

Republican Monte Olsen had no Republican challengers for House District 22 and received 1,637 votes.

U.S. Representative Barbara Cubin easily held off four Republican challengers with her 40,896 votes. She'll face Wilson Democrat Ted Ladd in the general election. Although he came in third statewide, Marvin "Trip" Applequist of Farson, a political newcomer, came in second to Cubin in Republican voting in Sublette County.

It should be noted that all the primary election numbers printed here are unofficial results. Results will remain unofficial until county canvassing boards meet (in Sublette County, this will occur on Thursday) and the state canvassing board meets to canvass the results, which is set to happen next Wednesday.

There are 3,749 registered voters in Sublette County, and 55 percent of those voters went to the polls Tuesday to cast their ballots.

See The Archives for past articles.
---
Copyright © 2002, 2003, 2004 Sublette Examiner
All rights reserved. Reproduction by any means must have permission of the Publisher.
Sublette Examiner, PO Box 1539, Pinedale, WY 82941 Phone 307-367-3203
examiner@wyoming.com