From the pages of
Sublette Examiner
Volume 3, Number 27 - October 2, 2003
brought to you online by Pinedale Online
---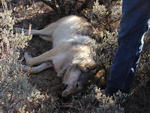 A dead wolf was discovered earlier this week in the vast sagebrush along the Wyoming Range Front near where a pack of at least 16 wolves are known to roam.

Wolf Update

by Cat Urbigkit

The U.S. Fish and Wildlife Service reported Wednesday that wolves were confirmed to have killed a cow and calf in the Upper Green River region last week, so the agency authorized USDA Wildlife Services specialists to kill the three-year old male wolf that has been running with the Green River female wolf and her pups.

Wildlife Services succeeded in the mission Friday, meaning that this is the second male wolf associated with the Green River female that has had to be destroyed because of livestock depredations. It apparently won't be the last either.

Mike Jimenez of FWS said Wednesday, "Yesterday I looked at a calf kill and a sheep kill in the same area," and confirmed that wolves were responsible for these kills as well. Jimenez said the he flew the area and saw the Green River accompanied by yet another uncollared adult wolf, so he authorized FWS to kill that wolf as well.

Jimenez said killing the wolves are aimed at stopping the problem.

Photo credits: Cat Urbigkit

See The Archives for past articles.
---
Copyright © 2002, 2003 Sublette Examiner
All rights reserved. Reproduction by any means must have permission of the Publisher.
Sublette Examiner, PO Box 1539, Pinedale, WY 82941 Phone 307-367-3203
examiner@wyoming.com