From the pages of
Sublette Examiner
Volume 3, Number 15 - July 10, 2003
brought to you online by Pinedale Online
---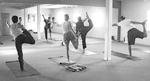 Darcie Peck leads a class in yoga stretches. She holds classes in Pinedale and Big Piney Monday through Thursday and Saturday.

Wind River Yoga & Body Works

by Casey Dean

Darcie Peck found that a single type of exercise could dramatically change her life for the better, and ever since, she has been sharing that activity, yoga, with others.

"I was a dancer and gymnast, and yoga seemed to be a natural progression, yet challenged me in other areas of my life," Peck said.

"It helped bring peace of mind and clarity to everyday life. I had an overwhelming sense of 'well-being' and happiness after each class."

Because she wanted so much to share this satisfaction with others, she took the Bikram Yoga College of India (Hatha Yoga) certification in 1997. Now in Sublette County, she offers classes for all ages and abilities at her new business, Wind River Yoga and Body Works.

"I thrive off of seeing people change and grow for the better. That is why I love teaching." she said.

Peck holds classes Mondays and Wednesdays at 5:30, Tuesdays at 6 p.m. in the Big Piney Library, Thursdays at noon and Saturday at 9 a.m. In addition to yoga classes, Peck teaches some forms of Pilates, gi-gong and deep-breathing techniques. Peck is also a massage therapist specializing in Swedish and deep tissue, acupressure and chi massage, reiki, reflexology, hot stones and chakra balancing.

The class Saturday mornings in the Bikram method is a method that "has been scientifically researched to prevent illness and injury, promote weight loss, reduce stress and anxiety, increase energy and limit effects of aging." Peck encourages beginners to attend this class.

Monday, Tuesday, Wednesday and Thursday classes are a combination of different types of yoga. "It involves stretching, strengthening and balance postures with focus on body alignment, anatomy of movements and mindful integration of breath," Peck said.

In the future, Peck would like to extend her business to include wellness retreats and health-related workshops as well as opa yoga for children. She is currently working with the Pinedale Preschool children for the summer.

Aside from sharing her love for yoga, Peck enjoys hiking, skiing, sewing, dance, photography and art. She is also learning alternative and holistic health strategies and herbal remedy making.

Peck has been in the Sublette County area her entire life, as she visited her grandparents in the Upper Green every year. She has lived permanently in Sublette County since September of 2002, and opened her business in the fall of 2002.

Peck has found that yoga is very beneficial to both mind and body, without the wear on the body that can be a limitation with many other activities.

"In my class, I teach how to move and breathe simultaneously so one has increased control of the mind and emotions. Yoga is a great release, and stress and tension are alleviated."

This form of exercise is for anyone and can increase range of motion, joint and tissue flexibility and broaden the mind, body and spirit. Peck also pointed out that yoga is not a religion, only a type of exercise and way of life if you want it to be that. "What you put into it, is what you get in return," Peck said. "It is a type of exercise that works the entire body and is a path to finding purpose in life, self-awareness and increased overall health."

Photo credits: Delsa Allen

See The Archives for past articles.
---
Copyright © 2002, 2003 Sublette Examiner
All rights reserved. Reproduction by any means must have permission of the Publisher.
Sublette Examiner, PO Box 1539, Pinedale, WY 82941 Phone 307-367-3203
examiner@wyoming.com