From the pages of
Sublette Examiner
Volume 3, Number 13 - June 26, 2003
brought to you online by Pinedale Online
---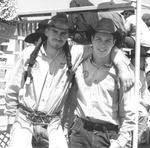 After winning the championship spots at the Wyoming High School Finals Rodeo, bareback champion Tommy Baker and saddle bronc champion Clayton Selby prepare for competition in Farmington, N.M. at the National High School Finals Rodeo on July 19 - July 22.

Champion Bronc Busters!
Local high school rodeo athletes win Wrangler State Championships
by Tiffany Swain

Pinedale High School junior Clayton Selby, and Tommy Baker, a junior at Big Piney High School, recently competed in the Wyoming High School Finals Rodeo in Douglas on June 19 - June 22. Clayton came away from the competition as the Wrangler and Wyoming state saddle bronc champion and Tommy was named the Wrangler and Wyoming state bareback champion.

Clayton's win at the state finals left him "excited to win the championship and very excited to go to nationals. I hope to do well (at nationals)," he said. Clayton scored a consistent 66, 67 and 68 on horses that were, according to him, "pretty nice in the first and second rounds and really good horses in the third round. I got first in the first round, second in the second round and second in the short go." Clayton won a saddle and two belt buckles for his success. "One buckle is for winning State and the other is for winning the average."

The competition at the state level was tough. "There were a couple of kids that could ride really well," Clayton comented.

In preparation for the Nationals, Clayton practices every Thursday at the Pinedale Rodeo Arena on the Sublette County Sporting Association's roughstock horses.

Tommy's remarks on taking home the championship were: "It's pretty cool. I've been looking to get it all year. This was a goal of mine and I reached it."

Tommy shares the same feeling on going to Nationals that Clayton does. "I'm excited, not very nervous and I hope to do well."

Like all rodeos, you count on a good horse to get a good score. According to Tommy, his first horse "wasn't very good, I scored a 49 on that one." On his second ride he scored a 63, which he said "was my high for the week." Baker had a rough time with his third mount in the short go. "He fell with me and I rode him back up and scored a 59."

Tommy also commented that "most of the horses were good, and in the short round they were really good; except for mine, it was just a colt and I'm to big to be riding a colt."

Along with winning awards such as saddles, belt buckles and college scholarships at the State competition, Clayton and Tommy were also given one pair of Wrangler 20X jeans and a special Wrangler state event champion patch to put on their official competition shirt from Wrangler.

This popular awards program was initiated by Wrangler to go along with its successful Wrangler High School All Star Team program. In addition to providing jeans and shirts for over 1,200 Wrangler High School All Star team members, 600 NHSRA state and provincial event champions, and over 160 shirts to the performance champions at the National High School Finals Rodeo (NHSFR), Wrangler also provides significant college scholarship opportunities to the NHSRA that are distributed at the NHSFR.

Tommy and Clayton's championship wins have earned them a position on the Wyoming State High School Rodeo team and will be traveling with fellow teammates to Farmington, N.M., from July 21 - 27 to compete at the 55th annual National High School Finals Rodeo (NHSFR).

The NHSFR is considered the largest rodeo in the world and features over 1,500 contestants from 39 states, five Canadian provinces, and Australia. Contestants will be competing for over $125,000 in prizes, and vying for more than $150,000 in college scholarships along with the chance to be named the National High School Rodeo Champion. In order to earn this title, contestants must finish in the top 20 after two go-rounds of competition before advancing on to Sunday's final championship performance. The Sunday championship performance will be televised nationally on 20X Rodeo High, which is a part of Outdoor Channel's weekly "Rodeo Round-Up" series. It is scheduled to air Sept. 22 at 11 a.m. eastern time, Sept. 24 at 8 p.m. eastern time, Sept. 27 (check local listings for times), and Sept. 29 at 11 a.m. eastern time. Please check www.rodeohigh.com for possible schedule changes.

Contestants competing at the NHSFR will not only have great rodeo competition and the chance to meet new friends from around the world, they also have the opportunity to represent their team in a volleyball tournament, attend a concert, enjoy nightly contestant dances, including a cowboy prom, shop the ever-popular NHSFR western mall, and visit historical attractions such as the Four Corners area.

Fundraisers are being organized to help sponsor Clayton and Tommy for their trip to nationals. To donate to these young athletes, please contact Sharon Harrell at 859-8809, Jenny Amerine 859-8896 or Jo Johnson at 276-5743.

Photo credits: Sharon Harrell

See The Archives for past articles.
---
Copyright © 2002, 2003 Sublette Examiner
All rights reserved. Reproduction by any means must have permission of the Publisher.
Sublette Examiner, PO Box 1539, Pinedale, WY 82941 Phone 307-367-3203
examiner@wyoming.com