From the pages of
Sublette Examiner
Volume 2, Number 9 - May 30, 2002
brought to you online by Pinedale Online
---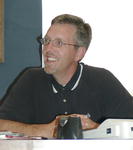 Sublette Center Administrator Dave Doorn is committed to providing excellent care and helping residents find ways to fund that care.

A community within our community
Part 5 in a series
by Rhonda Swain

What do you do when the time comes that your parents or grandparents reach the age when they can no longer care for themselves without some type of assistance? Are you left with a couple of less-than-desirable answers? Maybe they can move in with you - but wait ... both adults work, and besides, there is a shortage of space. Hiring someone to move in with them is out of the question because of costs. There's always a retirement home, and, thanks to the foresight of a group of people back in the late 1970s, Sublette County is lucky enough to have an excellent facility. But what if your family doesn't have the financial means to fund a long-term stay in a retirement facility?

These are matters that can be taken care of locally at the Sublette Center, where a dedicated and caring staff is committed to ensuring that the elderly live out their days in comfort, while maintaining a certain amount of dignity and pride that can sometimes be lost to that ever-growing population. The staff is trained to help patients and their families through the funding process as well as finding the right balance of activities, nutrition and myriad other details. Their first priority is and always has been providing a high level of care for the residents in the center.

Sublette Center Administrator David Doorn and Board of Directors President Jim Latta both said that the Medicare and Medicaid system can be confusing and difficult to understand as to their limitations.

Doorn said "until you have a family member who gets in the system, you really don't know how it works ... Medicare does not cover long-term care, it will pay for some rehabilitation."

Medicare will cover a couple of items the center offers. With the center having a certified skilled nursing facility, following a three-day hospital stay, Medicare will help pay for a semi-private room, meals, skilled nursing and rehabilitative services and other services and supplies. There are limitations, however. Medicare will pay everything for the first 20 days, but the patient pays $99 per day for days 21 to 100, and all costs beyond 100 days.

Medicare covers most home-health care services, including part-time skilled nursing care, physical therapy, occupational therapy, speech and language therapy, and home-health aide services. It will cover 80 percent of the amount for durable medical equipment such as wheelchairs, hospital beds, oxygen, walkers and medical supplies.

As for Medicaid, Latta said, "Medicaid, literally, is a welfare program ... that one can only qualify for after exhausting most of their assets, including their home."

But Doorn said that in the case of a surviving spouse, there is an entirely different set of regulations regarding Medicaid. Say the wife is in the center and the husband, who is still able to care for himself, stays in the couple's home and drives their car. In order to qualify for Medicaid, Latta said the couple must "spend down" their assets to a Medicaid-specified amount, which changes periodically. He said that "there is a safety net out there ... but before the safety net kicks in, each individual must have spent down the majority of their assets to a level approved by Medicaid."

Doorn spoke of a case in which, because of a soft real estate market, the center's directors actually wound up with possession of a home to cover a patient's costs, and only part of their costs were recovered. They sold the house at a loss after spending six month's trying to get the paperwork and red tape worked out.

While this all sounds pretty grim for those on a fixed income, both Latta and Doorn said that no one has been turned away from the center, even if they know for a fact that the patient has no means to pay.

"We do our best to accommodate those who are not able to pay," Latta said. Doorn said they judge what the patient gets from Social Security, and deduct costs for medicine, insurance and other basic costs, and that's what they charge.

This is a freedom that Doorn said he probably wouldn't have elsewhere. "I like working here for a private, non-profit because I don't have to come up with a bottom line. We're always working on ways to come up with the money to improve the building and help people out. The board has been great, they don't expect huge bottom lines. We have control of that."

For his part, Latta said he has sat on "a lot of boards and this is the best one I've ever been on. I think what we accomplish is more significant to the community than any other board I've ever sat on."

The center is planning some new fund-raising efforts, and Latta said they still get some large monetary donations to help with the purchases such as a high-dollar wheelchair and maintenance costs.

Although in the past several years the center's pay scale has gone up about 25 percent, according to Doorn and Latta, the lack of available housing creates difficulties in finding staff from out of the area. They try to keep one of the center's studio apartments open for anyone who may want to work through more than one shift. Doorn allows his department heads to "pretty much run their own departments and make their own decisions," with each filing a report to the board at the monthly board meeting.

Current plans are to add several apartments to the center's existing Heritage Apartments and, to add diversity to the center's services and availability of apartments, Latta said the board hopes to build a 16-unit low-income apartment complex for the elderly sometime in the future. "We're going back to the drawing board on that one ... It's something the entire board is committed to trying to do."

Photo credits: Delsa Allen

See The Archives for past articles.
---
Copyright © 2002 Sublette Examiner
All rights reserved. Reproduction by any means must have permission of the Publisher.
Sublette Examiner, PO Box 1539, Pinedale, WY 82941 Phone 307-367-3203
examiner@wyoming.com