From the pages of
Sublette Examiner
Volume 2, Number 8 - May 23, 2002
brought to you online by Pinedale Online
---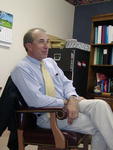 Sublette Center Board of Directors President Jim Latta says that "When I first got on the board, I thought I was going to be dealing with geriatics. But geriatrics is almost a result of our efforts. What we really do is run a business."

A Community Within Our Community
Part 4 in a series
by Rhonda Swain

Isn't it ironic that in a place meant to provide comfort in the golden years, when as few as three people pass away or three more join the ranks at the facility, it leaves that place either in a financial crunch or resorting to shuffling its staff's hours? A place with a mission of providing an excellent level of care at all times the Sublette Center faces just such a prospect with its residents, according to center Board Member Jim Latta and Dave Doorn, the center's administrator.

"If we lose two or three old friends, it upsets our cash flow to the point where we have to start adjusting hours with the help," Latta said. "We can't create enough cash flow to pay all the nursing home staff without maintaining a specific number of paying patients. So if we lose a few, it can just turn us absolutely upside down. Then the flip side happens, and we have too many people and we don't have enough staff to take care of them and we have to scramble to find enough staff. Dave has done an absolutely wonderful job trying to keep that delicate balance going."

Part of the problem lies with the fact that construction of the center has left it close to $1.3-million in debt. Latta said that if the administration "didn't have a debt to service, it would give us a lot more stability." As it is, fluctuations in residencies at the center result in a juggling act for the administration.

The 20-year-old facility's maintenance costs are hefty, too; when it reached that magic mark, many major items began to fall into disrepair, with a need to replace washers, dryers, paging systems, and boilers (at $5,000 each) at pretty much the same time.

At one point, the center had board and care units, but they were "not generating enough cash flow from that part of the building," so they combined two board and care units into one apartment to create more apartments. The Heritage Apartments continue to have a huge waiting list.

Doorn said the board and care units were difficult to keep filled because of the limitations imposed by the State of Wyoming in relation to the abilities of board-and-care residents. "It was really hard to find that person," Doorn said, "because they had to be cognizant enough to take their own meds and do laundry and things. But on the other hand, we could help them out with a few things ...They had to have the right needs ... At that time we had 20 of those apartments and, at the most, four or five of them were filled." The board converted to apartments because that would serve the most people.

The center is certified by Medicare and Medicaid, which means that they can bill those agencies. The Wyoming Department of Health conducts an annual, unannounced health inspection. Latta said the unannounced inspections are good because they ensure that the center is "always at a level of care and proficiency that is appropriate."

There are a couple of building projects Latta and Doorn would like to see completed. The first, which they hope is in the not-too-distant future, is for more apartments. The other project is for a low-income apartment house as part of the Sublette Center complex.

"The idea is that, when someone can't stay in their home any longer, but they don't need to be here and can't afford this ... It seemed so simple to find a government program ... but we got in a bureaucratic snarl," and the idea was ditched. But Latta said he feels a survey showed that the need was glaringly obvious, and hopes that if it ever happens, it can be done without too many federal strings attached.

There is space at the current facility to expand, Doorn said. "One of our greatest assets is the 10 acres behind us," he said."We just have to figure out how we're going to fund it."

The fact that the center is the only retirement community in the state with both apartments and a medical wing in one facility is testament to its founders' foresight for our isolated communities; actually the mere fact that Sublette County has such a facility is testament to their foresight. Without the center, our loved ones would be in homes in Rock Springs, Jackson, or Salt Lake, anywhere but this close to home.

Those founding fathers created the Retirement Center of Sublette County without thought to what the name could imply. After a time, many people came to believe that the center was funded by the county, so eventually its name was changed to the Sublette Center, a private, non-profit organization that receives no outside funding, other than donations.

Latta stressed that the center's objective, regardless of the number of patients, is to maintain an excellent level of care always.

Photo credits: Delsa Allen

See The Archives for past articles.
---
Copyright © 2002 Sublette Examiner
All rights reserved. Reproduction by any means must have permission of the Publisher.
Sublette Examiner, PO Box 1539, Pinedale, WY 82941 Phone 307-367-3203
examiner@wyoming.com