From the pages of
Sublette Examiner
Volume 2, Number 8 - May 23, 2002
brought to you online by Pinedale Online
---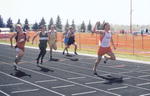 With a yell of joy and his arm raised in victory, Puncher senior Kyle Gerik, who would win four events and finish second in another, crosses the line in the 200-meter dash to clinch the Red's fourth title in as many years. Wrangler junior Garrett Bardin, who finished third and accounted for 11 of the Green's total 23 points, is also shown in the photo.

Power Punchers
And One More Makes Four
by Jim Carbley

Punchers set new 2A standard with fourth consecutive State Championship while Piney gals finished 5th, Pinedale gals and guys finish 12th and 14th.

At last week's State Track Meet in Casper, the Big Piney Punchers won the Wyoming Class 2A State Track Championship, and in doing so added a word that had never before been applied to Wyoming Class 2A track, fourpeat.

It was the Red's fourth straight State crown, and the first time a Class 2A team has won four championships in a row, which leaves Marbleton having to pull down those big Red banners along highway 189 so they can add 2002 to the list of championships.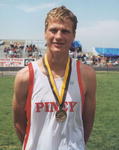 Junior Puncher Terrell Brown, who won two events and finished a close second to teammate Kyle Gerik in two others, sports his "Best of the Best" medal, which he earned when he broke his own school record set just last week by soaring 44-6 in the triple jump.

While the Punchers finished first with 97.5 points, 7.5 ahead of second place Wright, the Lady Punchers finished in fifth place with 54 points, just 2 points behind Dubois and 2 points from claiming the fourth place consolation trophy.

For their part, with both teams racked with a respiratory infection, the Pinedale contingent fared less well than they should have, and the Lady Green finished in twelfth place with 26 points while the Wranglers finished in fourteenth place with 23 points.

From the Sublette County viewpoint, the real story of the meet was the Red's battle with Wright for the crown.

Although the Punchers had a 20.5-point lead with just four events remaining going into the 400-meter dash, the Red had no entries and Wright's second place finish in the event cut Piney's lead to 11.5 points.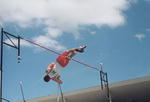 Senior Jared Holgate, shown here clearing 12-6 for a fourth place tie and 4.5 points in the pole vault, was one of a handfull of Punchers to whom Coach Eskelsen gave the credit for making the difference that brought the championship to Big Piney.

Next came the 1600-meter run, where the Punchers again had no entry to three for Wright, and with Pinedale's star distance runner Zach LaVoie out ill, Wright finished first and seventh for 12 points and took a half-point lead into the next to last event, the 200-meter dash.

Since neither Piney or Wright had entries in the meet's final event, the 4 x 400-meter relay, and both teams were far ahead of the competition, the championship hung on a duel between the two best 200 runners in Class 2A, Puncher Kyle Gerik and Wright's Nick Bear, with the crown going to the team whose runner crossed the line first.

With the gun the runners broke out of the blocks, and around the turn it was tough to tell who had the lead, but as soon as they hit the straight Gerik turned on the juice and pulled smartly away from the field to cross the finish line almost a second ahead of Bear who finished in seventh place.

Monday, the Examiner interviewed both head coaches.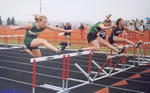 PHS senior Kathy Konieck turns in the best individual performance for the Lady Green with this fourth-place finish, earning 5 points in the 100-meter hurdles, just .16 seconds behind the second-place finisher.

Big Piney Coach Joel Eskelsen said, "It was just a good meet for both our girls and boys.

"The boys went down there knowing that Kyle Gerik and Terrell Brown were the state leaders and were going to do very well in their events ... were by far the best two hurdlers in our class and Terrell was the leading triple jumper ... so we knew we were going to pick up quite a few points with those two ... (and) they pulled in 74 points.

"But the key to the championship was what the other kids did ... Justin McDonald and Justin Krieger in the long jump ... McDonald was supposed to score, but then Krieger went over 20 feet in the long jump and went over 40 feet in the triple jump, and that was 6 points we really didn't know we were going to get. For a kid in his first year to place in the top six at State is just amazing.

"Then there was Matt Kozeal's fourth place and 5 points in the shot ... Jared Holgate tying for fourth in the pole vault and pulling in 4.5 points ... Jesse King finishing seventh in the discus which was worth 2 points ... the 4 x 100 relay got sixth, and it was those 23.5 points that won the meet for us.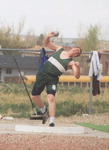 With a mighty heave that shows his great promise for the future, Wrangler freshman Alex Gunn puts the shot almost 47 feet for a season best and good enough to take eigth place at State.

"Those kids who performed very well and picked up points that we needed was what won the meet ... (and) that's what you have to have at State, is people stepping up and doing better or scoring higher than they did all year ... like Justin Krieger who finished sixth in the triple jump at Regional Meet then turns around and finishes sixth at State, which means he passed a couple of kids in our district.

"LaVoie being out hurt us a little, and it's too bad that he went to State and was unable to run. It's impossible to say if he would have won the mile, but his times were as good as the mile leader and he probably could have helped us in the 800, where Wright had three in the top five.

"Basically we had to go head-to-head against Wright where we could, and just hope that our hurdlers and jumpers would outweigh their distance people, and that's kind of what happened.

"Our girls were fantastic ... and there wasn't much more we could ask.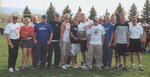 Allthough they didn't totally dominate the competition as they did last year and had to fight like the devil the whole way, the 2002 Punchers ended their season the same way the Red had for the last three years, with the State Championship trophy in hand.

"They went down there and I don't think there was a time or an effort that wasn't as good as they've done all year...took second in the 4 x 800 relay, Stephanie Henry took second in the 300 hurdles, Eimi Priddis got third in the triple jump and eighth in the long jump ... Tiffany Sorensen had a super discus throw and just to get beat on another girl's last throw ... (but) got fourth in the discus and sixth in the shot.

"They won the 4 x 400 ... and they did very well...came within 2 points of finishing fourth, which I thought was fantastic," Eskelsen said,

Pinedale Coach Rich Steege said, "Out of the 25 kids we took over, 15 of them were sick ... all upper respiratory congestion, terrible sore throats, sinus congestion ... we were just a mess."

"Considering the fact that none of them felt worth a darn and that it was hard enough for them to run warm-up laps let alone their events, I was real proud of the efforts they gave. They showed a lot of character, went ahead and competed to the best of their ability. They felt bad and we felt bad for them, but they just weren't able to go over there and show what they really could do.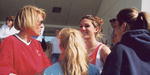 Coach Terry Cain congratulates her 4x400-meter relay team, Chantelle Rust, Tiffany Wilson, Hillary Longoria and Stephanie Henry, after the foursome scored the Lady Red's only first-place finish at State Track Meet.

"But despite being sick, we had some bright spots. Garrett Bardin had a good track meet, had a third and a fourth, and there again we've got an underclassman that got a taste of what it's like and I expect him to come back even stronger next year. We had a couple of field event kids that got some good experience ... freshman Alex Gunn stepped up in the shot put ... got into the finals and scored some points, had his best throw of the year and that was encouraging.

"On the girls side ... underclassmen ... Jessica Transtrum and Amanda Reints vaulted their best of the year and are just going to continue to improve, and high jumpers Bonnie Mackey and Amber Pearce both placed.

"There were just a lot of encouraging performances all the way through, even though they weren't our best, and these kids are making commitments now to come back not long after school is out to start making preparations to make better what we missed this year.

"Congratulations to the south side boys. It was an interesting meet going into Saturday, and Wright certainly kept the engraver from stamping the trophy ... but the Piney boys showed real character, didn't lose their composure and performed the way they needed to in order to pull it out," Steege added.

Photo credits: Jim Carbley

See The Archives for past articles.
---
Copyright © 2002 Sublette Examiner
All rights reserved. Reproduction by any means must have permission of the Publisher.
Sublette Examiner, PO Box 1539, Pinedale, WY 82941 Phone 307-367-3203
examiner@wyoming.com