From the pages of
Sublette Examiner
Volume 2, Number 7 - May 16, 2002
brought to you online by Pinedale Online
---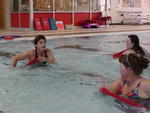 Pinedale pool manager JJ Huntley is a real hands on manager; she teaches swim classes in addition to managing the pool's day-to-day operation.

A flipper & a fin for JJ Huntley
Pool manager says the Pinedale Pool is YOUR pool!
by Kate Neely

At the mention of the words "pool manager," what comes to mind? A lifeguard? Someone who gets to work all day in a swimsuit and bare feet?

How about the mention of the words "community pool?" Do you envision the place you and your friends always met on those long, hot summer days when you were kids?

In a small community, the swimming pool is perhaps one of the greatest recreational jewels there is. It provides entertainment for kids, a place to exercise, and a place for therapy.

There is more to Pinedale's community pool, however, and the secret lies in its caretaker, long-time resident Julie Huntley. An enthusiastic woman who believes she has the "perfect job," Huntley works not only to make the pool an effective and learning place for students in the school system, but she also works to make it known that the pool is truly a community pool – something that belongs to everyone in the community.

As the manager of the pool in what she affectionately calls a small town of appreciative people, Huntley said she probably knows more kids and more names in the Pinedale school district than anyone else. And this could be quite possibly so, since she comes into contact with kids ranging from preschool to high school through various school swimming programs, sports and classes offered at the high school level.

"I love my job because it's so multi-faceted," Huntley said, adding that because she works in a small town, things are "constantly unfolding."

Huntley's primary responsibilities include monitoring the water and chlorine in the pool, recruiting and training lifeguards, finding and managing other pool staff members and handling public relations. And as a paid employee of the school district, being involved with students is another priority.

"I really think that I have the perfect job," Huntley said, and perhaps that is not surprising, since she has held it for the past nine years.

Joining the pool staff in 1993, Huntley took the opportunity after it became available in the spring. A stay-at-home mom who was ready for a full time job, she had decided that the pool was a place she would like to work, and as luck would have it, the opportunity arose.

Swimming has more or less always been a part of Huntley's life, and even more so, the overall field of physical fitness has shaped her life.

A native of Ohio, Huntley grew up near Cleveland by Lake Erie. As kids, she said, she and her friends would spend time on the lake's beaches or pedal their bikes to the pool on a hot summer afternoon. However, she always pictured herself someday living out West in a cabin in the mountains, she said.

While physical activity has always been a part of her life, so has music, and by the time she headed to college, Huntley had decided she would pursue her musical passion.

She entered Graceland College in Iowa with that plan in mind, but as a prospective major, found it to be too limiting in terms of physical activity. She said she needed to become involved in something that satisfied her desire to be actively involved in physical fitness. Music was not the answer.

Redirecting her goals, Huntley turned toward recreation, and after two years at Graceland, transferred to Indiana University as an outdoor recreation major. There, her passion for fitness continued to expand as she continued her studies and attended lectures of graduate students who had entered various fields of recreation themselves. It was one such lecture that ultimately led to Huntley's fate of visiting Wyoming for the first time.

Huntley said she became inspired after hearing a young man talk about his training experience at a National Outdoor Leadership School (NOLS) in Lander. The lecture thrilled her so much that she called the school herself to inquire, and learned that the school offered semester courses in outdoor education. Huntley wasted no time, and at the beginning of the first year of her senior semester, she jumped on a bus and headed to Wyoming for training.

Wyoming captured her heart, and after finishing her spring semester at Indiana University, Huntley once again packed up and returned to Lander, ready to work and already lined out with a job at NOLS.

Always knowing she would live in the West someday, she said, "It was just an instinctual thing."

Huntley lived and worked in Lander from 1976 to 1982, serving as an outdoor education instructor, in general teaching courses that involved becoming comfortable with the outdoors and acquiring outdoor skills. Specific activities, such as flyfishing, swimming or rock climbing, were taught at the school as well, and studies in flora and fauna were another major part of the overall education. As an instructor, Huntley was not only busy teaching and carrying out her duties, but she was also busy living her dream of being involved in physical fitness.

It was in Lander through NOLS that Huntley met her husband, Jim. The two learned they shared an amazingly similar history, both growing up near Lake Erie, both sharing childhood dreams to move "out West," and both ultimately working at NOLS. Needless to say, they were "very compatible," as Huntley said, and in 1978, they were married.

The two continued to work for NOLS for several more years, until an extraordinary proposition arose: After being asked by school officials if they would be interested in traveling abroad to continue to teach, the two moved to Kenya, where they lived for two years as co-directors of an outdoor educational program.

There, Huntley said, they were exposed to an entirely new non-modernized culture and a completely new lifestyle where they taught and learned about a variety of activities and educational information, from rock climbing to the area's natural history.

The couple lived in Kenya until 1984, when they returned to the US and Wyoming, and Huntley finally fulfilled her dream of living in a cabin in the mountains – right here in Sublette County.

Four years before, she and her husband had purchased a piece of property on Horse Creek, northwest of Daniel. The property already had a small cabin – an old homestead – on it, and the two lived contentedly in the cabin for six years – without running water. Finally, in 1990, they built a house.

By that time, the couple was busy raising a family of three daughters, and a devoted stay-at-home mom, Huntley did not seek full-time work until her job opportunity came at the pool in 1993. Now, nine years later, she said she does not have any plans to leave, and is "always looking for new challenges."

"I want this to be a true community pool that belongs to all of us," she emphasized, adding that even though not every one is a swimmer, everyone can benefit from water exercise.

Huntley continues to maintain the pool's condition and work toward bettering programs, and in the middle of it all, she still has time to swim herself – and even teach a few classes. She encourages anyone with questions or suggestions to call anytime.

"I would encourage people out there that haven't checked out the pool to come," she said. "There is something here for everybody."

Photo credits: Rhonda Swain

See The Archives for past articles.
---
Copyright © 2002 Sublette Examiner
All rights reserved. Reproduction by any means must have permission of the Publisher.
Sublette Examiner, PO Box 1539, Pinedale, WY 82941 Phone 307-367-3203
examiner@wyoming.com