From the pages of
Sublette Examiner
Volume 2, Number 6 - May 9, 2002
brought to you online by Pinedale Online
---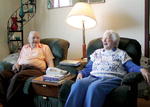 Bill and Donna Dickson enjoy living at the Sublette Center, where Bill likes to watch the birds outside their window, and Donna went from room to room watching a moose tour the outside of the center.

A community within our community
Part 2 in a series
by Rhonda Swain

What options lie ahead for the elderly population of Sublette County? Will they remain in their homes with someone checking on them occasionally, or will they move in with another generation of their family? Will they resort to moving away from their homes and their friends?

For many, the answer lies within our community, in a community of its own – the Sublette Center, a facility that offers everything from a place to live to birthday parties, bingo, crafts and cooking classes, to a first-class beauty salon and continuing medical care for those who need it.

Joann Bohannon, activities director at the center, is dedicated to her job, and it shows. This is a lady who has spent the past four years making the 120-mile round trip commute from her home in LaBarge to her job in Pinedale. Joann, who stepped into the directorship three years ago when Dawn Mitchell left, enjoys the many outings she coordinates for center residents. Joann oversees a staff of three in the activities department, and works closely with the other center departments.

She said her favorites are probably, "the Valentine's dance and the Spring Fling dance. They are probably the most rewarding ... everyone dances, even those in wheelchairs – we dance them around in their chairs."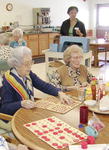 Sublette Center residents tackle bingo cards at the Sublette Center on a regular basis. The center's activities department organizes bingo, bridge, crafts and cooking to stimlulate residents at the center.
She also commented on the annual fishing trip to Sally Swift's in Boulder, where residents can fish in the fishing pond and enjoy a barbecue. Upcoming events Joann enjoys include the Mother's Day Tea and the May 17 luau she has planned to celebrate Nursing Home Week.
There are 31 apartments in the center, 24 single-bedroom apartments, three two-bedroom apartments and four studios – one studio apartment is all that currently remains open.
Bill and Donna Dickson live in what was once a two-bedroom apartment, but is now a one-bedroom, office/heirloom room. The Dicksons moved from Rock Springs to the center about three years ago, after 20 years of spending summers in a trailer at Lakeside Lodge on Fremont Lake.
The Dicksons' daughter, Jamie Kaul, spends summers in Pinedale with her husband, Mike.
Bill said one of the things he likes best about living at the center is "No sidewalks, no lawns to take care of. They come in and clean our rooms once a week, and in the fall and the spring they have a general housecleaning."
Donna said there are "a lot of things we like ... the people, there are some really nice people here ... Both residents and the help."
Although the Dicksons ate in the center dining room for a year, Donna now cooks in their apartment because "I have a husband who likes home cooking."
The Dicksons participate in many of the social activities the center provides, Donna said. "We play bridge every Friday," she said. "I play bingo, but Bill doesn't, he thinks it's boring. I won speedball today, and that takes a little agility. I won 75 cents," she laughed. "The biggest thing that they win is a dollar, for blackout. Today Helen Sherak won blackout."
The center also has a library for residents to trade books and magazines back and forth.
"We're avid readers" Donna said, "we trade books with our friend Ethelyne Worl all the time. All of us trade and share our reading material."
Donna said that having Kim Shaul's Ultimate Image "beauty parlor right here is handy ... I can just walk up the hall ... and Kim is very obliging." Kim does both the Dicksons' hair.
One thing that is very apparent of the residents in the center is the fact that they all care about each other's welfare to the point of looking after everyone.
Donna said that she was worried about Lena Wright, Mary Pat Perkins' mother-in-law, who "lives just across the street (hall)," because she "didn't show up at bingo, but sometimes she's napping and doesn't make it."
The Dicksons' rent at the Sublette Center has gone up twice since they moved in; it now costs them just shy of $1,200, an amount that includes utilities and television service, but no meals. Donna said they pay about $400 more per month for their extra bedroom.
Some county residents find that from time to time they need specialized care, and Sublette Center Home Health is there to fill that need. This recent addition to the center's services provides nursing services to residents who need some help, but who are not in need of being in the center's medical wing.
The home health service, a Medicare-certified agency providing a team approach to therapeutic and rehabilitative health care services, provides continuing care to clients in their own homes. The staff is committed to individuals' rehabilitation, allowing retention of self-respect and independence in regard to their health care and personal needs.
Edna Schilling, director of nursing at the center, heads the home health project, which serves all of Sublette County and the area within a 60-miles radius of Pinedale.
The staffs of Proactive Rehabilitation, Sublette Community Counseling Services, Lincare and Sublette County Public Health provide skilled nursing care, medical social services, physical therapy, occupational therapy, home health aides and nutritional consultation on a 24-hour-a-day basis.
Some of the good things about the center are made much easier with the help of volunteers, and Joann said she has many of them. She commended Treva Hutchinson, who helps with crafts, heads a Bible study group and spends time in the medical wing, and Kay Meeks, who Joann said entertains at almost all the monthly birthday parties. Kate Neely, a Pinedale High School senior, volunteers for a creative writing class, "She's a big help," Joann said.
Other volunteers include Fred and Coralee Petersen, Judy Martin, George Ditton, Dr. Tom Johnston, Jeannie Hale, Virginia Miller and Jackie Barnhart.
"Faithful church people" who volunteer include Pastor Don Storrud, Harold and Lois Asire, Father Lynch and Steve and Kay Pitchford and Mary Caucutt.
If you have a few minutes with nothing to do, head to the Sublette Center – there's something going on almost all the time, whether it's an organized activity, just residents visiting or, as Donna Dickson said, "going from room to room, following that moose around the center."
Photo credits: Delsa Allen , Delsa Allen
See The Archives for past articles.
---
Copyright © 2002 Sublette Examiner
All rights reserved. Reproduction by any means must have permission of the Publisher.
Sublette Examiner, PO Box 1539, Pinedale, WY 82941 Phone 307-367-3203
examiner@wyoming.com