From the pages of
Sublette Examiner
Volume 2, Number 6 - May 9, 2002
brought to you online by Pinedale Online
---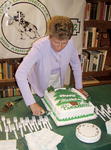 Laurie Hartwig, director of the Museum of the Mountain Man, has the honor of cutting Pinedale's birthday cake.

Pinedale celebrates 90th birthday

by Ann Noble

On Thursday evening, May 2nd, several community members, including those who have lived here for most of Pinedale's history and recent residents who have just moved to the area, gathered at the Museum of the Mountain Man to celebrate Pinedale's 90th birthday. Pinedale Mayor Rose Skinner introduced the speaker, historian Ann Noble, who presented the history of early Pinedale. Before her presentation, though, Ann explained the challenges in writing the early town history, due to lack of adequate documentation and especially with the conflicting stories which have been passed down.

Following the presentation, the audience celebrated with birthday cake, punch and coffee while enjoying the museum's newest exhibit, consisting of photographs of early Pinedale. Of particular interest was the early map and photos of the town created by Gary Holman.

Partial funding for this project comes from the Sublette County Historic Preservation Board. In addition to the exhibit, a brochure about early Pinedale is available at the Museum of the Mountain Man. The early history and photographs can also be found at http://www.Sublette.com/history.com

When should we celebrate our 100th?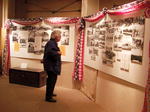 A special Pinedale display was put together in the lower level of the museum, showing old photographs of what Pinedale used to look like. A large map of the town's streets was made showing where some of the old buildings used to be.
By Ann Noble
We are celebrating Pinedale's 90th birthday this year, because Pinedale was incorporated in 1912. It seems like an obvious point to count our years from, right? Maybe not. Was Pinedale "born" at incorporation? Or should we count our beginning when Mr. Charles Petersen and Mr. Graham each donated five acres to create a town in 1904?
Clint Gilchrist first challenged celebrating our birthday from incorporation, suggesting it was more logical to commemorate the centennial in 2004, when the town was founded. Long-time resident Sunny Korfanta agrees. He thinks the town turns 100 in 2004.
Pinedale Mayor Rose Skinner has also been consulted. She feels we should celebrate both, "because I like a party!" She also noted that more parties are good for the economy. But when pressed to favor one, she went with the founding. Museum of the Mountain Man Director Laurie Hartwig has enjoyed hosting Pinedale's birthday party so much she wants to do it again in 2004, rather than wait until 2012. Actually, her argument for 2004 was in the interest of being a part of history by changing the birth dates. Former museum director Laurie Latta also favors 2004 because when the original plats were laid out in 1904 is when the town really started, not at incorporation.
Finally, Sublette County Clerk Mary Lankford cast her vote in favor of 2004 also, noting that this celebration would come after the county celebrated its 80th birthday in 2003!
So when should we celebrate Pinedale's 100th birthday? In 2004, in commemoration of the town's founding? Or in 2012, to celebrate 100 years of incorporation? Cast your vote!
Call the Examiner at 367-3203 to let us know when Pinedale's birthday should be..
Photo credits: Delsa Allen , Delsa Allen
See The Archives for past articles.
---
Copyright © 2002 Sublette Examiner
All rights reserved. Reproduction by any means must have permission of the Publisher.
Sublette Examiner, PO Box 1539, Pinedale, WY 82941 Phone 307-367-3203
examiner@wyoming.com