From the pages of
Sublette Examiner
Volume 2, Number 52 - March 27, 2003
brought to you online by Pinedale Online
---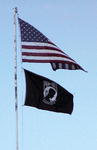 Advancing Freedom - There will be a rally for servicemen at VFW Post 4801 Saturday, March 29, at 1 p.m., and in Big Piney from 2 - 4 p.m.

Coalition moves to end reign of terror

by Cat Urbigkit

It was just over a week ago that United States President George W. Bush addressed the nation and explained that he was giving Saddam Hussein 48 hours to leave Iraq or face military action from our country and its allies.

Bush reminded us that as a condition for ending the Gulf War in 1991, Iraq pledged to reveal and destroy its weapons of mass destruction. Instead of honoring that pledge, what it has done since that time is play a game of cat-and-mouse with international weapons inspectors and has violated no less than 16 United National Security Council resolutions. It has also "aided, trained and harbored terrorists, including operatives of al Qaeda," Bush said.

Hussein did not comply by the deadline imposed by the United States. White House spokesman Ari Fleischer called it Hussein's "final act of defiance."

President Bush again addressed the nation, shortly after 10 p.m. eastern time last Wednesday, stating: "Our nation enters this conflict reluctantly - yet, our purpose is sure. The people of the United States and our friends and allies will not live at the mercy of an outlaw regime that threatens the peace with weapons of mass murder. We will meet that threat now, with our Army, Air Force, Navy, Coast Guard and Marines, so that we do not have to meet it later with armies of fire fighters and police and doctors on the streets of our cities."

Operation Iraqi Freedom had begun and continues today with our goals to disarm Saddam Hussein's regime and to liberate the people of Iraq.

"The terrorist threat to America and the world will be diminished the moment that Saddam Hussein is disarmed," Bush told us.

Bush addressed the nation once again Tuesday morning at the Pentagon. He said: "Eighteen months ago, this building came under attack. From that day to this, we have been engaged in a new kind of war - and we are winning. We will not leave our future to be decided by terrorist groups or terrorist regimes. At every turn in this conflict, Americans can be confident in the people who wear our nation's uniform. We support them. We are thankful for their service in places of great danger, in this hour of great need.

"We're fighting an enemy that knows no rules of law, that will wear civilian uniforms, that is willing to kill in order to continue the reign of fear of Saddam Hussein. But we're fighting with bravery and courage.

"We cannot know the duration of this war. Yet we know its outcome; we will prevail. The Iraqi regime will be disarmed. The Iraqi regime will be ended. The Iraqi people will be free. And our world will be more secure and peaceful.

"The people of our military and their families are showing great courage, and some have suffered great loss. America is grateful to all those who have sacrificed in our cause.

"Our coalition is strong. It's bound together by the principle of protecting not only this nation, but all nations from a brutal regime that is armed with weapons that could kill thousands of innocent people. America has more than 200,000 men and women engaged in Operation Iraqi Freedom.

"Our troops also continue to fight bravely in other fronts of this war on terror. In Afghanistan last week, coalition forces launched Operation Valiant Strike against terrorists and their allies in the southern mountains of Afghanistan. Of course, we have troops standing watch in other parts of the world to protect and maintain the peace. All the members of the military, abroad, at home, or here in this important building, are bound together by a great cause, to defend the American people and advance the universal hope of freedom.

"May God continue to look out after those who defend the peace and freedom. And may God continue to bless America," Bush concluded.

Photo credits: Cat Urbigkit

See The Archives for past articles.
---
Copyright © 2002 Sublette Examiner
All rights reserved. Reproduction by any means must have permission of the Publisher.
Sublette Examiner, PO Box 1539, Pinedale, WY 82941 Phone 307-367-3203
examiner@wyoming.com