From the pages of
Sublette Examiner
Volume 2, Number 50 - March 13, 2003
brought to you online by Pinedale Online
---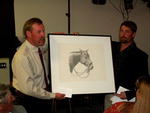 Dr. Bob Beiermann receives the Friend of Agriculture award at the Green River Valley Cattlemen Association's banquet. Here he recieves a picture from Fred Pape.

2003 Friend of Agriculture



2003 Friend of Agriculture

I would like to nominate Dr. Bob Beiermann DVM for the 2003 Friend of Agriculture.

It may be a fear that agriculture's roots and customs are fading, but not if Dr. Bob Beiermann can help it. Agriculture provides a way of life he loves and tries to perpetuate. Bob is a friend of animals, the community and agriculture.

As a small boy, Bob wanted to be like the man who came to the farm of his parents and doctored the sick animals. He was a kid that knew what he wanted to be. Even though money did not come easy on the eastern Nebraska farm, he attended college by working and on student loans.

After graduating from Kansas State Veterinary School, he gained experience working at various vet clinics. While working at the Jackson Hole Vet Clinic, he became known for his expertise with birds.

While at Jackson, he also met his wife-to-be - Janet Budd.

Prior to meeting the love of his life, Bob had volunteered his veterinarian services for the Iditirod in Alaska. He tore himself away and was off to the races. He was fascinated with the event, the dogs, the country and the people. What a contrast to his native flat Nebraska land. Nebraska people are sturdy and Alaskans are also brave. Bob has given many slides shows of these days and greatly enjoys seeing the pictures again himself.

After marriage in 1987, Bob and Janet tried out eastern Nebraska. One of his jobs was at the race track, Aksarben. He wasn't satisfied in Nebraska, he wanted to be on his own and in the country, though he hadn't figured it out yet - his wife wasn't 'ranchy' enough.

In 1990, the couple decided to try out Janet's home territory. Once in Big Piney, Bob began his practice in the basement of their small house - in a small cubicle behind a large furnace. Today he has a nice spacious animal clinic, which he helped build. It was a dream come true, which they made happen with a lot of dedication and hard work.

The other dream that came true is their two children, Clint, 12, and Jenny 9. Bob is a helpful, patient father. He skis with his family when time allows, hikes in the mountains with the kids, helps them their animals, and builds and mechanics with Clint.

Bob likes small towns and the activities that goes on with them. He is at most of the rodeos as the "vet on hand." He takes a big part in helping out at the county fair. He helps at many brandings, and at his father-in-law's ranch. He has served on the school board for 10 years and attends many school functions. He makes it to church when he can and to most of the community special events. He like old vehicles and has three old sheepwagons. He built a little mini-farm behind his clinic to give his children chores.

He is one of the great volunteers of the community. He is a good speaker and announcer. He participates in the Fourth of July Parade with his own created float - the most famous is his bathtub on wheels with Bob inside bathing. He has a great sense of humor. He is also the cowboy-looking guy you see riding his bike to the post office.

With the shortage of vets in Kemmerer and LaBarge, Bob fills in there a little also. The bulk of his business is performed on ranches.

There is a sign on the door of Bob's clinic "Hours 8 a.m. to 5 p.m., Monday through Friday." Don't believe it. He is at the office early in the morning. There are many phone numbers on his phone so he can almost always be reached and is willing to run to the ranch or meet you at the clinic. Day or night, he cannot turn his head from a needy animal. Janet is his right hand in the office and at anything else he needs - including filling in when a rancher is short handed.

Bob is country, cool and definitely a good buddy to agriculture.

– Nominated by Tara Miller

Photo credits: Deanne Swain

See The Archives for past articles.
---
Copyright © 2002 Sublette Examiner
All rights reserved. Reproduction by any means must have permission of the Publisher.
Sublette Examiner, PO Box 1539, Pinedale, WY 82941 Phone 307-367-3203
examiner@wyoming.com