From the pages of
Sublette Examiner
Volume 2, Number 50 - March 13, 2003
brought to you online by Pinedale Online
---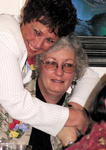 Becky Downs receives a hug from Rita Thomas

Ranchwoman of the Year 2003
Green River Valley Cattlewomen/Cowbelles Ranchwoman of the Year 2003


When thinking about the criteria of a ranchwoman, we automatically think of a woman who works on the ranch. But, oh, there is so much more! This is a woman who works at her marriage, works on motherhood, works at being a good neighbor, works at serving her community and yes, works at being a hired hand who knows when and where to be, even though she may not know why.

She is a good cook who can put out a meal for one, two or 20 at any given time. During haying, she runs the baler and still feeds the crew. She is involved with the moving of the cattle to the forest and in the roundup. She can be ready to go anywhere, to do just about anything, at the first call of her mate or friend in need. She has dried tears (many of them her own), mended pants and found lost papers, missing gloves and forgotten parts, as easily as she sits a horse. She is even capable of picking herself up when her four-legged "partner" has planted her firmly on the ground!

Speaking of picking herself up and moving on, she did that in 1989 when the family sold their property in Douglas and purchased a ranch out of Big Piney. Originally from Montana, she learned about the cattle business first hand, as her father was a cattle buyer. Following graduation from high school, she accepted a blind date and was "smitten." She and Jay soon became Mr. and Mrs. They have two children: Jackie, who is residing at the ranch, and John, who graduated from the University of Wyoming and resides in Laramie.

She has been active in the Green River Valley Cattlewomen/Cowbelles organization, was president this year and has served as secretary, as well as being on several committees. She actively promotes beef and agriculture by setting a fine example of the western way of life.

She is also a 10-year 4-H leader. She was involved in the livestock club and even when her son was no longer a member she continued to help out. She also continues to help with the home economics and general 4-H judging events. She has chaired 4-H concession stands the last couple of years and managed to help out at the stand even during haying. She takes pictures at the 4-H livestock field days and helps with the junior livestock sale at the county fair.

While her son was in high school, he was an active member of the rodeo club. This mother was right there, aiding in money-making projects, traveling with the kids and listening to other's woes. She is a member of the Catholic church.

My nomination for Ranchwoman of the Year 2003 is Becky Downs!

- Nominated by Stella McKinstry

Photo credits: Rhonda Swain

See The Archives for past articles.
---
Copyright © 2002 Sublette Examiner
All rights reserved. Reproduction by any means must have permission of the Publisher.
Sublette Examiner, PO Box 1539, Pinedale, WY 82941 Phone 307-367-3203
examiner@wyoming.com