From the pages of
Sublette Examiner
Volume 2, Number 50 - March 13, 2003
brought to you online by Pinedale Online
---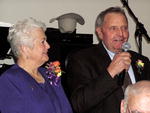 Norm and Barbara Pape ranch near Daniel with their family.

2003 GRVCA Lifetime Members
Norm and Barbara Pape


Anytime between the middle of July and mid-September, two swathers will be marching to the beat of a busy hay harvest. The drivers of these machines are partners in the truest sense of the word. He depends on her to execute and implement endless bookkeeping responsibilities and all the other jobs that come with being a ranch wife and she on him to manage and operate the hands-on ranch work and maintain a wonderful working relationship with two sons who are partners on the ranch.

Our friend, good neighbor and father, Norman Frederick Pape lived most of his life on the family ranch near Daniel. His parents, Lester and Mary Pape, had lived in Norman's present home since 1917. This home, though renovated, is the house where Norman has lived his entire life. He and his twin sister, Nadine, were born in the Jackson hospital (the first twins to be born there) on Aug. 8, 1930. His other sisters Karmen Marincic and Miriam Davison, live in Daniel and Pinedale. He and his sisters went to country school for their early schooling and on the Wasatch Academy for high school; he then attended the University of Wyoming and went on to serve in the military for two years.

Norman met Barbara in 1957 and in 1959 they married, raised three children, and as constant companions have confronted and conquered the many challenges of life along the way.

Within this partnership, Norman is a very able and dedicated cattleman, who never shirks responsibility, but thrives on it, whether it be fencing, feeding, working cattle, or participating actively in community services. He is known for his kindness, hardworking nature, organization skills and strong leadership qualities. His wife, Barbara, children Fred and Michelle, David and Naomi, and Jane and Chuck Potempa, his grandchildren Logan, Sydney, Hadley, Mary Barbara and Joe, are his greatest joy. He works beside them and with them for the success and happiness they all strive for as a family. In this work they carry on the traditions of the ranching industry.

Norman and Barbara are very community-minded and have served on many committees and boards along with being active in their church (St. Andrew's in the Pines Episcopal Church), in the Masonic Lodge and Order of the Eastern Star; GRV Cattlemen and Cowbelles; Sublette Center Board; Farm Bureau and University of Wyoming Alumni Board. They served as International Farm Youth Exchange Delegates (Barbara in Denmark and Norman in Nicaragua) prior to their marriage.

Norman has not limited himself to family and ranching interests but continues to be actively involved in numerous other organizations. He was on the county zoning commission when it was formed, served 21 years on the soil conservation board, portrayed Jedediah Smith in the Green River Rendezvous for over 20 years, along with providing teams of horses up to the present time. He has been secretary of the Hoback Stock Association for 23 years (a job he inherited from his father). He served on the Pinedale school board for nine years and this rancher, hunter and fisherman was appointed by Governor Mike Sullivan to serve a six-year term on the Wyoming Game and Fish Commission in 1987.

Along with activities listed earlier, Barbara received the honor of Ranchwoman of the Year in 1996; was a 4-H leader for over 20 years; Bronx Community Club member for 42years; served on the rural health board; Guardian of Job's Daughters; and has served on the election board for thirty years.

They have been able to take time for a few trips together to Hawaii, Africa, Europe, Mexican Riviera and New Zealand. Barbara even let him go off with his fishing buddies to the Queen Charlotte Islands fishing several times.

- Nominated by Fred Pape

Photo credits: Deanne Swain

See The Archives for past articles.
---
Copyright © 2002 Sublette Examiner
All rights reserved. Reproduction by any means must have permission of the Publisher.
Sublette Examiner, PO Box 1539, Pinedale, WY 82941 Phone 307-367-3203
examiner@wyoming.com