From the pages of
Sublette Examiner
Volume 2, Number 50 - March 13, 2003
brought to you online by Pinedale Online
---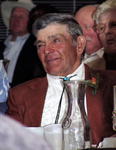 Jeb Richie ranches with his family near Boulder.

2003 GRVCA Lifetime Member
Jep Richie


Jep Richie began his ranching career on April 18, 1931, on the Richie family homestead on Muddy Creek southeast of Boulder. His parents, Ellen and Eb, and sister Verla were glad to have another hand to help out. Two years later, brother Norm arrived. The Muddy Ranch was home to Jep for the next 12 years. His earlier years of school were spent at the Muddy Creek School.

In 1936 the Richies bought the Warshman-Allen place on Cottonwood Creek. They did not move onto that place until 1943. Jep drug the meadows at the new place with four head of green horses when he was just 12 years old. After they moved to the Allen place, Jep and Norm went to school at the Olsen school house (where Joel Bousman now lives.) They rode the colts they were breaking to and from school. Jep went on to high school in Pinedale. He milked cows for Hagensteins in exchange for room and board. After graduating in 1949, he went into working full time on the family ranch.

Jep led a typical ranch kid's life, helping out with all the ranch work, and learning from the oldtimers that passed through. Mickey McKnight walked into the Muddy Ranch in the middle of the winter with nothing but gunny sacks on his feet. Mickey stayed the winter to help on the ranch and taught the boys how to cuss and spit. Jep has worked with and learned from many old-time cowboys through the years. He employed many of these gentlemen in their later years. Some even found a home on the Richie ranch until their dying day.

Jep started his first team at the age of five; it was a team of goats. This helped him prepare for the many years of working a team in the hayfield and on the feedground. Jep still feeds with a team every winter. When asked why he doesn't use a tractor, he replies that his horses start every morning and only once did he have to walk back to the house because a horse went down while feeding.

Jep not only worked horses at an early age, he began breaking colts as soon as he was big enough to get on one. With all the horses Jep has broken, there have been many stories and wrecks. One story Eb recalled was the one with the big Appaloosa named Dutch.

"Dad was helping Lee Grandy cutting out pairs on the speedway cutting ground, Dutch bucked Dad off and when he got up, he had found an arrowhead." Dutch also drove Jep's hand in the mud at Muddy and he came up with a broken thumb that time. After that, he went to town, spent quite awhile at the bar and sold the big Appaloosa.

As if riding the bucking horses on the ranch were not enough, Jep took up riding bareback horses and traveled the local rodeo circuit. While rodeoing at the Z Bar U, Jep met a fiery redhead from Colorado. In 1955 Jep married Barbara Vaughn. They spent the next 36 years together on the ranch until Barb's death in 1991.

In 1958, Jep and Norm bought the Vible place south of Boulder on the East Fork River. With that purchase they acquired a dance hall, which is an equipment shed most of the year, but has seen a few good parties to celebrate the end of haying.

Jep stacked loose hay until just a few years ago when the ranch switched to medium squares. The summer we planned on switching, Jep went and got some skid poles for the slide because he did not have much faith in the new baler.

Norm refers to Jep as his Amish brother because of his hesitation for the use of modern technology. He can usually chop a tree down before Norm can get his chainsaw started. Jep never took to snowmachining because he doesn't want to ride one further than he wants to walk.

Tradition has always worked well for Jep. He has always been a strong believer in the straight Hereford breed. If a black calf is born, it's shipped off the ranch as soon as possible, and herd of good Hereford cattle has been maintained.

Jep has served on many boards in the community throughout the years. He was on the school board for 20 years. Jep was also very active in the Sublette County Sporting Association. Lynne remembers drawing stock for the weekly rodeos out of a cigar box at the kitchen table. Many of the bucking horses in the draw were out of the Richie's Lightning stud.

Jep has three kids of his own but he has helped raise many. Kids on the hay crew got a lot more than a paycheck while working on the Richie ranch. Jep taught them lessons in life as well as the value of honest labor. There is nothing like peeling posts with a hangover or stacking hay for short hauls.

Jep has never used an angry voice toward any kid; he has only had to let one go in all these years. This past summer he did have to get after the little Richie boys for cutting out birds at the cutting ground instead of holding the cows. But he did this with a big grin on his face.

Jep is a very gentle, compassionate man. He treats his animals with a soft, kind hand, even the horse that struck him and almost split his head open. Jep was especially compassionate with his wife and mother during their lengthy illnesses prior to their deaths.

Jep's kids are very proud of him and they appreciate all the love and knowledge he has given them. He always found time to do a little fishing or rock hunting.

Jep has six grandkids and two of them are the next generation of the Richie brothers. He still puts in 200 percent on the ranch. He fed with a team of horses today and he is still breaking horses. There is no slowing down for this lifetime cattleman.

-Nominated by Carole Bardin

Photo credits: Deanne Swain

See The Archives for past articles.
---
Copyright © 2002 Sublette Examiner
All rights reserved. Reproduction by any means must have permission of the Publisher.
Sublette Examiner, PO Box 1539, Pinedale, WY 82941 Phone 307-367-3203
examiner@wyoming.com