From the pages of
Sublette Examiner
Volume 2, Number 50 - March 13, 2003
brought to you online by Pinedale Online
---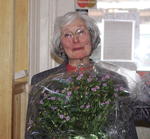 Margaret Mickelson has been involved in ranching since she was 14.

2003 Cowbelles Lifetime Member
Margaret Mickelson


In writing this letter for the Green River Valley Cattlewomen to appoint Margaret Mickelson as a lifetime member, I have known Margaret for at least 65 years. She has been my sister-in-law for 60 of those years.

Margaret was only 14 when she and a friend came to work for Virginia O'Neal during the summer months. My brother, Gordon, was immediately smitten. I know because I was old enough to drive them on their dates, as Gordon was only 14, too.

Margaret and Gordon were married July 26, 1944, in a garden wedding at the home of Al and Kate Gilchrist. Al officiated at their wedding; Al was the postmaster in Kemmerer. Kate was active in her community. They were the parents of two other children, Alex Gilchrist and Jackie Gilchrist.

Margaret has been a member of our family forever. While Gordon was in the service, Margaret lived with my parents. She had Corliss, a beautiful baby girl. We all came to love Margaret dearly. When my brother returned from Germany, their family grew to include Jim, Gordon, Eric, Margaret, Mark and Mildred. Margaret continued to be an outstanding and caring mother.

Her interests in the Green River Valley Cattlewomen, American Legion Auxiliary, Eastern Star, Job's Daughters (she was the State Guardian) her community and church gave her a meaningful and fulfilling life. She was chosen Mrs. Wyoming, where she represented our state with grace and beauty. In 1978, Margaret was chosen "Ranchwoman of the Year." After her family was raised, Margaret was free to ride with Gordon. She spent many hours in the saddle assisting with the cattle. She is excellent in weighing and is found in the scales during the fall shipments.

Margaret has a delightful personality which draws people to her. Whenever anyone needs something done ask Margaret," whether it be on the ranch or in any of the various organizations to which she belongs. I would conclude this letter saying, "Margaret is One In a Million."

- Nominated by Tharon Thompson

Photo credits: Rhonda Swain

See The Archives for past articles.
---
Copyright © 2002 Sublette Examiner
All rights reserved. Reproduction by any means must have permission of the Publisher.
Sublette Examiner, PO Box 1539, Pinedale, WY 82941 Phone 307-367-3203
examiner@wyoming.com