From the pages of
Sublette Examiner
Volume 2, Number 50 - March 13, 2003
brought to you online by Pinedale Online
---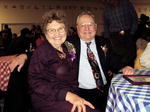 Marvin and Betty Applequist have a family-run operation in the Farson/Eden area.

2003 GRVCA Lifetime Members
Marvin and Betty Applequist


Marvin celebrated his 80th birthday last September. He was born in Quick, Neb., on Sept. 29, 1922, on his grandfather's ranch. The ranch consisted of approximately 2,000 acres and they raised Black Angus cattle. This was probably the start of Marvin's interest in ranching - it's in his blood.

When he was 10 years old, his family moved to Casper, where he completed his grade-school education. He then moved to Escalon, Calif., and worked his way through high school milking cows.

After high school, World War II occurred, and in 1942 he joined the U.S. Army Air Force. When he enlisted, the Air Force checked the recruits for nationality. They determined that those of Swedish, Norwegian and Finish decent were all used to sub-zero weather, so Marvin was shipped off to Alaska and the Aleutian Islands for a three-and-a-half year stint.

After the war ended, Marvin returned to Escalon, and was discharged from the service in 1946. He married his high school sweetheart, Betty, and they settled on a 57-acre dairy ranch in Valley Home, Calif. The state of California had a Cal-Vet loan program, enabling veterans to borrow money to purchase ranches at a low 3 percent. They raised Jersey cattle and their four children; Marvin II, Jo Ann, Estella and Peter.

Marvin continued his education by attending college classes under the GI Bill for veterans.

In 1959, Marvin received information regarding drawings to be held in various states on units in reclamation projects in which veterans had preference. Being an adventurer, Marvin put in on drawings in Washington and Wyoming. The mail arrived and he was notified that he was drawn out number one on the reclamation project in Eden Valley.

We believe everyone was drawn out number one. With his 10-year-old son Marvin II, they journeyed to Farson to view the project. Even though it was the month of December, the temp was 40 below, and the ground was covered with snow, the decision was made to go for it.

He purchased one unit at that time, but did not start farming it until 1962 due to a shortage of water in the valley because of drought. The farm in California was sold, and summer feeding continued for a couple of years. Their son Marvin II took care of the farm in the winter, while Betty and Marvin wintered in California, but all of that has now changed. Eventually three other units were purchased in the valley, and Betty and Marvin moved to Farson full-time.

The ranch has seen many changes over the years. A farm house was built, six pivot sprinklers are now installed, and the ranch is now primarily a cattle operation. Best of all, the grandson, Marvin III, his wife Jennifer and two children, run the ranch and Betty and Marvin have the privilege of enjoying the great-grandchildren.

Last week, Marvin and Betty celebrated their 58th wedding anniversary.

– Nominated by Victor Mack Jr.

Photo credits: Deanne Swain

See The Archives for past articles.
---
Copyright © 2002 Sublette Examiner
All rights reserved. Reproduction by any means must have permission of the Publisher.
Sublette Examiner, PO Box 1539, Pinedale, WY 82941 Phone 307-367-3203
examiner@wyoming.com