From the pages of
Sublette Examiner
Volume 2, Number 50 - March 13, 2003
brought to you online by Pinedale Online
---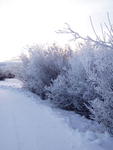 Recent snowfall has helped with the overall snowpack for the year, but western Wyoming livestock producers are hoping for precipitation in April to get public land grazing allotments ready with spring growth.

Discussing drought

by Cat Urbigkit

Members of the Green River Valley Cattlemen's Association spoke with Bureau of Land Management range specialist Doug Powell in Pinedale Friday afternoon about the drought situation and the upcoming grazing season.

Powell said he has been questioned by various permittees about whether his agency will simply institute yet another across-the-board cut in livestock numbers if faced with another dry season this year.

"We haven't made our mind up," Powell said, noting that April is a key month for precipitation. With one of the major turnout dates in the region being May 1, Powell said, in addition to a fairly short spring grazing season, "That doesn't give us much time."

Powell said it certainly isn't enough time to deal with 70 different allotments in the same time frame.

It's for these reasons, Powell said "why we get pretty spooked by these drought problems and have a hard time dealing with drought."

"We want to deal with this drought as early as we can and deal with it in an effective way," Powell said.

Domestic livestock grazing in western Wyoming is increasingly under scrutiny by environmental groups, Powell added, noting he needs to be able to defend his agency's grazing decisions.

"We do get questioned by some of these people about what we're doing over here," Powell said.

Boulder rancher and association president Jim Bousman said the BLM should be able to use true science in its response to such questions, including explaining what the current use is, what was last year's utilization rate and allotment records for the last 20 years.

Explaining and defending science-based livestock grazing management decisions should be the answer, Bousman said: "Not a 25-percent cut in numbers. I think we can do better than that."

Powell replied that in some cases, such information is available, but in other cases, the detailed historic information isn't there.

Bousman added, "If you have the scientific proof, that's all the protection you need."

Photo credits: Deanne Swain

See The Archives for past articles.
---
Copyright © 2002 Sublette Examiner
All rights reserved. Reproduction by any means must have permission of the Publisher.
Sublette Examiner, PO Box 1539, Pinedale, WY 82941 Phone 307-367-3203
examiner@wyoming.com