From the pages of
Sublette Examiner
Volume 2, Number 5 - May 2, 2002
brought to you online by Pinedale Online
---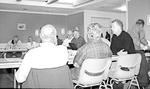 Approximately 55 WAM members spent from Wednesday to Saturday in Pinedale attending meetings and enjoying our region of the state.

Wyoming Association of Municipalities meets

by Rhonda Swain

Fifty-five members of the Wyoming Association of Municipalities (WAM) came to Pinedale for their spring board and committee meetings April 25 through 27.

The board has met twice before in Pinedale in the last 10 years.

For WAM board of directors purposes, Wyoming consists of four regions; each appoints four members (two from cities and two from towns) and four delegates are appointed at-large, plus a president, making a board that is 21-members strong.

On the agenda were a number of committee meetings, from energy and natural resources, to public safety and legislative services. The groups met at the Pinedale Library for their meetings.

Pinedale Mayor Rose Skinner said they "deal with all the issues that affect cities and towns, economic development, legislative issues public safety, infrastructure ... There are various committees that research issues and bring information before the group at committee meetings."

Skinner said several local businesses helped to sponsor the event, including five that funded Falerís catering for break refreshments, Rio Verde Engineering, Super 8 Motel, Pinedale Super Center, Pacific Power, Bank of Pinedale and First National Bank of Pinedale. Don Tegeler of Tegeler and Associates hosted a cocktail hour Thursday evening at Stockmanís, and the Pinedale Chamber of Commerce hosted a wine and cheese tasting at the Super 8 Friday.

"Everybody raved about the food and no one had a bad word," Skinner said. "Some had their wives and families here and, of course, they shopped, and they commented on how nice all the people were."

According to WAMís missions and goals statement, the groupís missions are to be an advocate for local governmentsí common interests, provide educational opportunities and promote and coordinate action between communities. Their goals include "aggressive advocacy of state and federal legislation beneficial to Wyoming cities and town and active opposition to legislation detrimental to municipal interests."

WAM also strives to build effective leadership to cities and towns through WAM training by sponsoring workshops and a convention to provide the latest information on key municipal policy and management issues.

WAM offers the opportunity to participate in a variety of group programs, including comprehensive health insurance, property and casualty insurance, natural gas commodity supply and standardized testing of building trades contractors.

Organized in 1955 to provide group services for Wyoming cities and towns, WAM acts as an advocate for the interests of all municipalities and their residents. The association represents all 98 incorporated municipalities in the state, which are home to nearly 70 percent of the population of the state.

WAM committees meet regularly throughout the year at various locations around the state, providing an opportunity for mayors, council members, municipal employees and other interested parties to deal with the current issues that impact Wyoming cities and towns. WAM is governed by a 21-member board of directors composed of mayors, council members and municipal managers from across the state. They are elected by their peers to represent Wyoming communities.

The groupís summer convention and meetings will be held in Sheridan, with approximately 400 attendees.

Photo credits: Rhonda Swain

See The Archives for past articles.
---
Copyright © 2002 Sublette Examiner
All rights reserved. Reproduction by any means must have permission of the Publisher.
Sublette Examiner, PO Box 1539, Pinedale, WY 82941 Phone 307-367-3203
examiner@wyoming.com