From the pages of
Sublette Examiner
Volume 2, Number 48 - February 27, 2003
brought to you online by Pinedale Online
---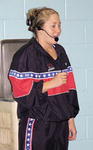 Misty shares inspiring talks and motivational stories with the swimmers before jumping into the pool to work on strokes.

Follow your dreams

by Casey Dean

An Olympic Gold Medallist made a visit to Big Piney last weekend. At the Big Piney pool Feb. 22nd, Misty Hyman, Gold Medallist in the 200-meter butterfly, held a clinic open to all swimmers age eight and over. She gave inspirational talks, tips on swimming and life in general and joined the swimmers in the water to perfect each stroke.

"I love doing these clinics," Hyman said, "It's a lot of work, but she said it's worth it. When she travels for swim meets, Hyman gets to travel all over the world, but she never has the opportunity to experience a community directly.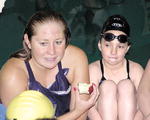 During a break in the clinic, Misty snacks while little fans like Jolee Springman gather 'round.

"With the clinics, I get to eat out, stay with families, get to know the community. It's really fun to share my experiences with people and hopefully inspire them ... to give back a little," she said.

Throughout the clinic, Hyman gave advice to the swimmers. "Follow your dreams" is her focus and it came up a number of times. "I remember when I was five, watching the 1984 Olympics, and I thought, 'someday I'm going to be at the Olympics standing on the top of the podium hearing the Anthem played for me."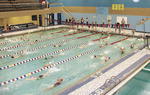 To help improve their strokes swimmers try out a technique Misty explains.

But she says it was pure luck that she had the opportunity. As a child, Hyman had severe asthma, so much so that she was often in the hospital for life-threatening asthma attacks. At age five, her doctor suggested swimming and from there, "I just set step-goals." Hyman's first swimming goal was to finish a race; reaching the other end of the pool was the first time she reached a dream. She soon moved on to a year-round program as her asthma improved.

Hyman and her brother used to watch racing movies, giving her more desire to succeed, "you know, the inspirational '80s movies where the good guy races and wins at the end," she said.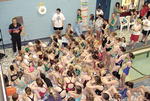 Misty talks about her race before showing a tape of her 200-meter butterfly swim in 2000.

As Hyman improved, her goals brought her closer to her ultimate goal, winning at the Olympics. Her coach in Phoenix, Bob Gillette, told Hyman when she was about 14, "You can be mediocre at a lot of things or the best at one thing."

At this time, she started dedicating more of her time to swimming and dropping most of her other activities. "If you choose to do something and to drop other things, I don't think it's a sacrifice. It's like waking up in the morning and having to decide whether to wear a red sweater or a blue sweater. If you pick the blue sweater, it's not like, 'oh, I sacrificed wearing the red sweater." She told the swimmers on Saturday that if you love something, go for it, it's a choice you make, not a sacrifice.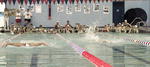 Misty races against a young swimmer at the Big Piney pool Saturday.

Hyman chose to win. She still holds the National High School record for the 100-meter butterfly. Hyman showed a tape of her race in 2000. She won a gold medal in what was referred to as the biggest upset in swimming history, beating Susie O'Neill, "Madam Butterfly" of Australia, and has been part of the U.S. National team for about six years. In 1998, Misty Hyman was named the NCAA Swimmer of the Year.

But Hyman didn't always win, and it wasn't always easy. In 1996, Hyman tried out for the Olympics for the first time. The top two swimmers went. She came in third by .03 seconds.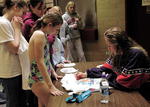 Misty Hyman signs shirts, caps, and cards, and smiles for pictures with her Olympic gold medal for participants in the clinic.

"But I went out there and I swam the best time I could have, and I did all I could to prepare," and she said that's all that counts. "You control what you can. I couldn't control how the other swimmers swam that day, all I had control over was how I did." Hyman is now making a comeback after taking a year off due to a shoulder surgery. As she prepares for the 2004 Olympics in Athens, Hyman travels the country holding clinics for younger swimmers.

After giving a short motivational speech Saturday morning at the Big Piney pool, Hyman and the attending swimmers hopped in the water to learn more about the sport. Throughout the technique drills, Hyman gave advice and offered inspiring thoughts. She focused mainly on the butterfly, but covered each stroke with about five drills on freestyle, backstroke and breaststroke. After covering important pointers on each stroke, swimmers were allowed to race Misty one length of the pool. She smoked everyone in the butterfly, but a few swimmers came close in the breaststroke, freestyle and backstroke.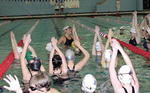 Misty, a quiet talker, gets the group's attention by yelling "Super stretch!" and waiting until everyone is listening.

"She's goin' easy on us," said one swimmer of the races. Afterward, people queued up for autographs and pictures with Misty and her gold medal. Thanks to the Sublette County Swim Team, Cheryl Long and the Big Piney pool staff, Sublette County swimmers had this remarkable opportunity to host the 2000 Olympic Gold Medallist, Misty Hyman.

.

Photo credits: Carie Whitman

See The Archives for past articles.
---
Copyright © 2002 Sublette Examiner
All rights reserved. Reproduction by any means must have permission of the Publisher.
Sublette Examiner, PO Box 1539, Pinedale, WY 82941 Phone 307-367-3203
examiner@wyoming.com