From the pages of
Sublette Examiner
Volume 2, Number 43 - January 23, 2003
brought to you online by Pinedale Online
---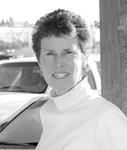 Jo Crandall led the way in creation of the PFAC, and was instumental in Pinedale getting an auditorium.

Jo Crandall: a work of fine art

by Rhonda Swain

"Jo started bringing fine arts events to the Pinedale community 26 years ago, before there was a PFAC (Pinedale Fine Arts Council) or an auditorium of any type in Pinedale. She has worked continually and tirelessly for fine arts education for the youth in our community, and for the exposure of our Sublette County population to diverse, provocative and enlightening presentations."

Thus began Jamie Kaul's introduction in a letter nominating Pinedale's Jo Crandall for the 2002 Governor's Arts award for an individual. Jamie's endeavor on Jo's behalf will culminate on Jan. 31 when Jo, along with former Governor Stanley and Mrs. Roberta Hathaway and John Giarrizzo of Powell, is honored during the Wyoming Arts Council's annual dinner and awards ceremony at the Plains Hotel in Cheyenne. Governor Dave Freudenthal will present the awards and comment on the "State of the Arts" in Wyoming.

Most people in Sublette County are familiar with Jo's dedication to the fine arts, and know that she has spent countless hours on behalf of the Pinedale Fine Arts Council.

Back in 1976, Jo and Arlinda McLaughlin managed, on a $2,000 budget, to bring the entire Utah Symphony to Pinedale. At that time, there was no auditorium in Pinedale, so the symphony performed in the Pinedale High School gymnasium, where the audience was seated in bleachers and all the folding chairs that could be found in town. Businesses closed their doors for the morning performance and volunteers prepared a buffet meal for the performers.

This was the first event sponsored by what eventually became the PFAC, and it had nowhere to go but up. With Jo at its helm, a small volunteer board did everything from screening and booking, and arranging housing and meals, to fund raising and ticket sales, from program design and printing to receptions. Since there were eight or nine events a year, the amount of work must have been phenomenal.

In 1983 PFAC incorporated, and it received federal tax-exempt status in 1985. For years, all performances were held in the high school gym, with all the lighting and sound equipment hauled up and down from the basement for each event, and Jo doing much of the hauling. So she and the PFAC lobbied for an auditorium until a school district bond issue finally passed and the Pinedale Auditorium was completed in 1987.

With a passion for fine arts education, she was instrumental in Sublette County School District No. 1 receiving recognition by the Kennedy Center for the Performing Arts for excellence in arts education. PFAC, under Jo's leadership, won the Millennium Award for Wyoming from the Mid-Atlantic Arts Foundation Artists and Communities program that resulted in three public sculptures for the community.

Her current ambitions include the Kresge Challenge, a fund raising venture that involves the Wyoming Community Foundation.

I, for one, knew next to nothing about what Jo's work really entailed, or even what it was all about. When she spoke of the Wyoming Arts Alliance, block booking and showcasing, she could have been speaking a foreign language for all I knew.

The alliance, she explained, includes organizations like the PFAC, including community colleges and others too small to have a fine arts council, that organize fine arts events.

WAA uses block booking to ensure quality and cut costs for Wyoming's fine arts performances. Representatives are sent to what resembles a trade show to see who is touring in the West, and the field is narrowed to 15 or 20 that most Wyoming arts councils are interested in; WAA chooses three or four from those.

Jo said block booking, a requirement for acquiring government grants, makes the dollars go further - an event that would cost $10,000 for a run-out performance can be cut to $8,000 using block booking. Over the course of a season, accumulated savings can bring another performance to the area. To sell their wares, emerging artists showcase their talents in a short performance and explain any residency activities they are involved in. Arts councils are not obliged to use these artists.

I was not at all surprised when Jo downplayed the part she played in the creation of PFAC and its success, saying that she learned a lot from her friend Arlinda, who brought fine arts experience to Pinedale from Kansas. She said she felt the PFAC succeeded because of Arlinda's approach, which didn't exclude anyone - she was open to different types of things and the members didn't squabble amongst themselves with Arlinda's presence.

Born in Afton, Jo and her family moved to Brigham City, Utah, when she was in third grade, and she attended Weber State College in Ogden.

She met her future husband at the University of Utah and they married in 1962. She and Craig lived in Alaska, Michigan, England, Utah and Texas before returning to Pinedale, where Craig was raised, to settle with their two daughters in 1971. Krissel now lives in Anchorage, where she is a senior land manager for British Petroleum; her children are Madeline and Mia. Margo, an instructional designer for Microsoft, lives in Seattle and also has two children: Maya and Ben.

A ballet teacher for 10 years, Jo's volunteer service in Sublette County has been varied, ranging from a PFAC and Campfire Girl leader, volunteer Pinedale Area Chamber of Commerce director, to outreach director with CWC and WWCC; she also started the AFS student exchange program in Pinedale.

She and Craig owned and operated the popular McGregor's Pub from 1990 to 2000, and she still has a catering business.

For a lady who has been very busy in a variety of activities for years, her latest accomplishment is the well-deserved icing on the cake.

Photo credits: Delsa Allen

See The Archives for past articles.
---
Copyright © 2002 Sublette Examiner
All rights reserved. Reproduction by any means must have permission of the Publisher.
Sublette Examiner, PO Box 1539, Pinedale, WY 82941 Phone 307-367-3203
examiner@wyoming.com