From the pages of
Sublette Examiner
Volume 2, Number 4 - April 25, 2002
brought to you online by Pinedale Online
---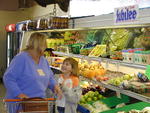 Mentor Debi Morley and Taylor Harmon shop for groceries in preparation for cooking at Debi's house. Cooking is one of the interests the two share, Debi said, and "Taylor also reads to me ... sometimes we do homework and sometimes we just visit."

Sublette County's first 'match'
A personal look at the mentoring project
by Rhonda Swain

Can you make a difference in someone's life in a mere 60 minutes a week? You can if you become involved with the Youth Project Inc., and it doesn't matter whether you're the mentor or mentee. Just ask Big Piney's Debi Morley or Taylor Harmon, who happen to be the first adult/youth match in Sublette County's program, which began in October of 2001.

South Sublette County mentoring project coordinator Sherri Redden paired Debi, library manager at the Big Piney Branch Library, and nine-year-old Taylor last November after Debi had interviewed to become a mentor in the project. Taylor lives with her father, Mike Harmon, and her sister, 11-year-old Marissa. The girls' mother lives in Texas.

"Sherri came in (the library) to get some copies made and we talked about the project," Debi said. "She asked if I would like to be involved and I said 'yes.'

"I knew she was doing it and hoped she would ask me to be involved," Debi added.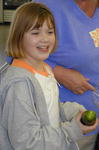 Nine-year-old Taylor Harmon has been participating with Debi Morley in the Youth Project since November.
Sherri does the background work, interviews the children and their parents, and the prospective mentor, and tries to pair people with the same interests.
The first thought to come to many people's minds in regard to a mentoring project could be the stereotyped problem-child/fixer-upper-adult program associated with inner city youths and their dysfunctional families. Sublette County is blessed with a lack of such tribulations; families involved in the mentoring project are everyday families, just like yours and mine.
According to Debi, Mike is "very concerned and always checks up on the girls. He's very aware of what's going on all the time.
"He wanted to make sure they (the girls) had a well-rounded life ... even though they have a good relationship, they may need something else," she said in regard to the Harmon family's relationship, and how Mike deals with the girls' mother living in Texas.
Debi also commented on the need for people to be able to grasp a different view of mentoring, and spoke of single-parent families and grandparents raising their grandchildren, all of who are prospects for the mentoring project.
"Even in school, a lot of children, when they grow up, attribute their success to one teacher – that's being a mentor, to," Debi added.
A program such as this sometimes fosters feelings that transcend generations. For instance, Mike was in a Big Brother program when he was young, so he thought because his girls were so far from their mom, it would be a good program for his family.
Taylor's sister, Marissa, who signed up for the youth project before Taylor did, was matched with Nancy Espenscheid six or seven weeks ago.
Nancy said the program is "just wonderful ... Sherri made a good match as far as I'm concerned.
"Part of it is probably because Sherri does such a good job of putting people together. ... My little gal and I both really love animals and doing things outside ... We play basketball and take our dogs for hikes in the hills.
"I just don't see any downside to it... it's not a burden at all timewise ... they don't expect you to make a huge time commitment."
Nancy said she views the program as a way for people whose families live a great distance away to help each other. She feels as if she is part of a surrogate extended family and encourages others to join the program.
"Everybody's a winner ... it's fun for me and I hope it's fun for Marissa. Even our dogs have become friends," Nancy added.
After talking to Debi and Taylor, it was easy to see that the mentoring program turned out to be only the 'introduction' of great new friends. Debi said Taylor is a "very warm, bubbly person and we have a lot of similar interests."
But it wasn't that way at that first meeting, according to Debi. "At first you feel kind of nervous about what you're going to do together, but if you're paired with someone with similar interests, it's easy," she said.
"When I started out, I had all these expectations and didn't know what to think would happen ... (But) All you have to do is listen and they (the children) kind of set the pace," Debi remarked.
Because the youth project matches participants based on their likes and dislikes, Debi and Taylor were able to decide for themselves whether or not they were a 'pair'.
Sherri is very good about checking with the mentor and the child to see how things are going, Debi said, and "You can call her if you don't feel comfortable in a situation."
Although Taylor and Debi are the pair in the mentoring project, others in both families are affected by the match as well.
"She was dying to meet my husband (John)," Debi said of Taylor. "And even though she doesn't (usually) spend time with him, he picked her up for the Easter egg hunt and took her there."
But John wasn't the only one in Debi's family that Taylor wanted to meet. When I talked to her last Monday night, Taylor said she was hoping to meet Debi's son, 31-year-old Michael, the next night when she and Debi got together for their weekly meeting.
Unfortunately, Michael, a seismic driller, was called to Oklahoma, according to Debi, so Taylor was unable to meet him.
As for Taylor's family, Mike said that the program helps him, " ... being a single dad ... it helps with getting the kids acquainted with other kids." This remark was confirmed when I called to visit with Taylor, and Mike told me she was at a neighbor's, but that they knew I was trying to contact Taylor, so I could call their home.
For her part, Taylor seems to be as smitten with Debi as Debi is with her. "She's really nice," Taylor said of Debi.
"I get to have a lot of fun with her. It's nice to have someone just to talk to. I like having her because of my dad going to work. The days my dad works late I can have someone to help with my homework," Taylor added.
Taylor said they have a lot in common, including crafts and "we make pictures," she remarked. "We get together about every week except holidays."
Debi and Taylor were originally scheduled to spend 60 minutes together on a weekly basis, but Debi said: "We found that wasn't near enough time for us, so we do at least an hour and a half."
Debi said they generally meet Tuesday at the library and "when I get off, we go do something or I pick her up at 5 when I get off ... she calls me on Monday and we decide what we're going to do on Tuesdays."
Debi and Taylor, and Marissa and Nancy aren't the only matches the youth project has paired - there are currently 10 matches in Sublette County.
While matches for young girls are commonplace, Sherri and North Sublette County mentoring project coordinator Judi Adler say that their biggest obstacle is the lack of male mentors. Judi said they have had boys waiting to be matched almost since the inception of the program, but she also has adult women who are waiting for girls to mentor.
No two mentoring matches are the same, but they can create an enthusiasm you find to be infectious for an entire family, and hopefully for all of Sublette County. Debi said that "every instance is different. You have to personalize it. It's very rewarding ... doesn't take a lot of time ... and makes another person happy.
"I recommend it highly," she said. "It's been so successful, I would definitely do it again."
Photo credits: Jim Carbley , Jim Carbley
See The Archives for past articles.
---
Copyright © 2002 Sublette Examiner
All rights reserved. Reproduction by any means must have permission of the Publisher.
Sublette Examiner, PO Box 1539, Pinedale, WY 82941 Phone 307-367-3203
examiner@wyoming.com