From the pages of
Sublette Examiner
Volume 2, Number 39 - December 23, 2002
brought to you online by Pinedale Online
---
Corwin, David and Brown earn junior musher status

by Rhonda Swain
The Pinedale Stage Stop of the International Pedigree Stage Stop Sled Dog Race (IPSSSDR) will be in its eight year when the mushers come to town in January 2003. For several years, the stage stop committee has held a contest aimed at giving young people with an interest in sled dogs a chance to actually drive a sled dog team, and 2002 was no different. The winners learn much about mushing from one of the mushers in the IPSSSDR, and get a chance to race on their own if they choose.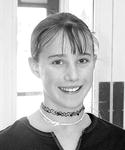 Shanna Corwin

This year, 11-year-old Shanna Corwin of Pinedale, 11-year-old Amy David of Boulder and 9-year-old Shelby Brown of Big Piney wrote the three top essays to earn the right to participate in the IPSSSDR Junior Stage Stop Run in Teton Village on Saturday, Feb. 1.

Shanna, whose musher is Michael Salvisburg, said in her essay, "All of my life I have dreamed about driving a dog sled." Shanna, who dreams of training dogs for the blind and deaf, has always loved dogs, and said her room is proof.

"The walls are plastered with pictures of dogs," she wrote, and added that she knows "I am meant to do something with them." Although her rat terrier can't pull a dog sled, she said she loves being outside and doesn't mind the cold.

"It would be so wonderful to yell 'gee' and 'haw' ... and 'all right' or 'hike' ... The joy of being outside in the snow, racing dog sleds would be a wonderful experience that I hope I can have," she said.

Shanna's community service would be for her church, where she would bake snacks, baby-sit in the nursery and help teach children's church. She said she would also help the Butterfly Club, an after school church club for kindergartners to second-graders.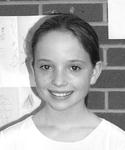 Amy David

Amy, who will be a musher-in-training with Leslie Martin, said the language she uses with her dog, May, is "Let 'er rip, May! ... Go get 'em! ... Come on, May!" But she yearns to learn the real musher language to use on May, who Amy has been training.

Steering May is one of Amy's concerns. She said May: "likes to dart under fences, and I have to bail! She's also fond of running right next to trees, and I have to roll off! I like to try hard new things, but getting dragged under barbed wire fences is a little too much."

Training animals is not new to Amy, she said she rides and drives horses and has learned to know what they are thinking.

"Their ears help you see which way they want to go, and how happy they are," she said. "I would like to know what kind of training to do in the winter with May, and if you train in the summer, then what could I do to start that?"

Amy has attended all the IPSSSDR stops in Pinedale and said one year her family "carved a big snow sled dog in our yard when a musher stayed with us."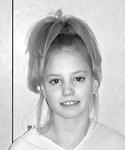 Shelby Brown

Shelby, a fourth-grader from Big Piney who likes dogs, will mush with Melanie Shrilla. She traveled to Alaska once to visit her grandparents and, "While I was there, my family and I went to the Iditarod headquarters in Wasilla, Alaska," and she got to ride on a sled, "a buggy with wheels," with Raymi Reddington. She said his dogs run very fast.

Although she said she thinks some people think it's rude to make sled dogs run, she knows that the dogs "actually enjoy pulling the sled. All dogs should be treated well and have plenty of food and fresh water."

"If I were a musher, I would name my lead dog Special because they are a very important part of the team. The lead dog keeps the rest of the team in line. The wheel dogs are important too. All the dogs have an important job," she wrote.

The Browns have three dogs, named Birdie, Trapper and Luke, and Shelby said that when she and her twin sister were little, Trapper and another dog, Cora, "used to pull us in our sled."

Shelby said she gets up early during the Iditarod to watch the news and "see what is going on.

"My mom took us to the first sled dog stage stop race in Pinedale when we were little. In the third grade, I went on a field trip to the race in Pinedale. I got a couple of booties from some of the mushers. My favorite musher would have to be Doug Swingley, who is yours?" she concluded.

The committee challenged kids from the age of 8 to 14 to write an essay of 200-or-more words relating why they wanted to drive a sled dog team. The contest, open to students in school districts 1 and 9, stipulates that the authors of the winning essays donate 10 hours of time to a non-profit charity of their choice.

Other children who submitted essays were Jayne Thompson, Pinedale; Megan Marie Johnson, Big Piney; Kolby Brown, Big Piney; Amy Lynn Schwartz, Pinedale; Kelli Fisler, Cora; Mykal Jensen, Pinedale; and Angela Ritschel, Pinedale.

See The Archives for past articles.
---
Copyright © 2002 Sublette Examiner
All rights reserved. Reproduction by any means must have permission of the Publisher.
Sublette Examiner, PO Box 1539, Pinedale, WY 82941 Phone 307-367-3203
examiner@wyoming.com