From the pages of
Sublette Examiner
Volume 2, Number 32 - November 7, 2002
brought to you online by Pinedale Online
---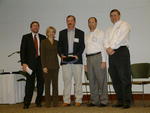 (Right to left) Glen Post, CenturyTel chairman and CEO; Karen Puckett, president and COO; Randy Reed; Stewart Ewing, executive vice president and CFO; and David Cole, senior vice president of operations support.

CenturyTel recognizes Reed for outstanding service



A CenturyTel employee from Pinedale was recently honored as an "Outstanding Service Provider" (OSP) in a company-wide employee recognition program.

Randy Reed, a native of the Pinedale area who is a communications technician for CenturyTel, has been working for the telephone company in Sublette County for 21 years.

According to Carol Allen, public relations manager of CenturyTel's Western Region, since 1993, CenturyTel has honored outstanding employees with a unique recognition process. This year, the company honored 33 employees (among 6,500 employees nationwide over 22 states).

The unique part of this program is that the 33 candidates are picked up by the corporate plane from their particular locations around the United States and flown to corporate headquarters in Monroe, La., to participate in an awards ceremony with company executives.

Reed and the other 32 honorees were picked up by CenturyTel's corporate plane on Thursday, Oct. 10, and flown to Monroe. Thursday evening the OSP winners were the guests of honor at a dinner with CenturyTel's officers.

Friday morning, Oct. 11, these employees were taken from their hotel to the corporate offices via limousine for breakfast, a tour of the building and awards ceremony. Then after a luncheon at a Monroe restaurant, they were returned home.

Criteria for the award include: Positive attitude, knowledge, skill, quality job performance, dependability, dedication and conscientiousness.

Photo credits: CenturyTel Courtesy Photo

See The Archives for past articles.
---
Copyright © 2002 Sublette Examiner
All rights reserved. Reproduction by any means must have permission of the Publisher.
Sublette Examiner, PO Box 1539, Pinedale, WY 82941 Phone 307-367-3203
examiner@wyoming.com