From the pages of
Sublette Examiner
Volume 2, Number 30 - October 24, 2002
brought to you online by Pinedale Online
---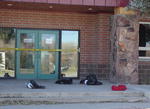 The Sublette County Justice Building was evacuated and sealed off Friday, as law enforcement officials reacted to a death threat.

Sublette County anthrax scare

by Cat Urbigkit

The Sublette County Justice Building in Pinedale was evacuated and sealed off by a hazardous materials team Friday after officials responded to the discovery of a suspicious material accompanied by a threatening note.

Sublette County Sheriff Hank Ruland said that during the lunch hour, his office was contacted by a secretary in the building who requested assistance.

According to Ruland, secretary Becky Manning had opened a letter and a white powdery substance fell out onto her. Inside the envelope was a threatening note directed to an individual in the county attorney's office, though Sublette County Attorney Dale Aronson was not in his office when the incident occurred. Ruland said Tuesday that the threat was addressed to Torey Racines, deputy county attorney.

Ruland confirmed that hazardous material specialists treated the suspicious substance as if it were anthrax.

Ruland said his agency requested a Wyoming Division of Criminal Investigation hazardous materials team, which was quickly dispatched from Jackson. Ruland said workers in the building were taken to the Pinedale Firehall, just across the street from the justice building, to be decontaminated. Their clothes were seized and were to be sent to a state laboratory for analysis late Friday afternoon.

Ruland said the hazardous materials team quickly concluded their work and the building remained sealed over the weekend, but reopened on Monday. He said the suspicious material was flown to Cheyenne and weekend tests revealed the material was non-toxic in nature. Wyoming Department of Health Laboratory officials confirmed the negative anthrax determination.

The Division of Criminal Investigation and the Sublette County Sheriff's Office are the agencies currently handling the investigation.

The DCI crime lab has the letter and the envelope, which are being processed for fingerprints and DNA, Ruland said, while local officials are investigating who has been prosecuted by the county attorney's office and conducting a handwriting analysis of the letter.

Ruland declined to provide specific information about the content of what he described as a threatening note, but did say that it was a very brief - one sentence - death threat. The letter was handwritten and had a local postage mark, Ruland said. "That narrows it down," Ruland said. "I can't say that we have a suspect or suspects, but we have some folks that we're looking at."

Ruland said there could be both state and federal charges involved.

"It's a very serious offense," Ruland said, "Sending a threat like that, it could involve the FBI because it's a terrorism threat."

Ruland said the individuals involved "are not humored by any of this, I assure you."

Photo credits: Delsa Allen

See The Archives for past articles.
---
Copyright © 2002 Sublette Examiner
All rights reserved. Reproduction by any means must have permission of the Publisher.
Sublette Examiner, PO Box 1539, Pinedale, WY 82941 Phone 307-367-3203
examiner@wyoming.com