From the pages of
Sublette Examiner
Volume 2, Number 29 - October 18, 2002
brought to you online by Pinedale Online
---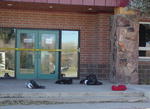 The Sublette County Justice Building remains sealed after a suspicious substance, accompanied by a threatening note, was discovered Friday afternoon.

Sublette County Haz Mat Scare

by Cat Urbigkit

The Sublette County Justice Building in Pinedale was evacuated and sealed off by a hazardous materials team Friday after officials responded to the discovery of a suspicious material accompanied by a threatening note.

Sublette County Sheriff Hank Ruland said that during the lunch hour, his office was contacted by a secretary in the building who requested assistance.

Ruland declined to provide any information about the content of what he described as a threatening note, and also declined to say to whom the threat was directed.

The Sublette County Justice Building is a new county facility that houses the offices of Sublette County Attorney Dale Aronson and Circuit Court Judge John V. Crow, as well as the circuit court courtroom.

Ruland said his agency requested a Wyoming Division of Criminal Investigation hazardous materials team, which was quickly dispatched from Jackson, 77 miles away. Ruland said workers in the building were taken to the Pinedale firehall, just across the street from the justice building, to be decontaminated. Their clothes were seized and were to be sent to a state laboratory for analysis late Friday afternoon.

Ruland said the hazardous materials team quickly concluded their work and the building remains sealed. He said the suspicious material was slated to be flown to Cheyenne and a presumptive test should be completed within 24 to 36 hours.

Then we begin our investigation, examining the letter, Ruland said.

The Division of Criminal Investigation and the Sublette County Sheriff's Office are the agencies currently handling the investigation.

Photo credits: Delsa Allen

See The Archives for past articles.
---
Copyright © 2002 Sublette Examiner
All rights reserved. Reproduction by any means must have permission of the Publisher.
Sublette Examiner, PO Box 1539, Pinedale, WY 82941 Phone 307-367-3203
examiner@wyoming.com