From the pages of
Sublette Examiner
Volume 2, Number 27 - October 3, 2002
brought to you online by Pinedale Online
---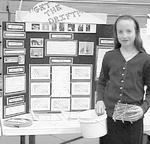 Erica David is headed to Washington, D.C., to compete as one of the Final Forty in the Discovery Channel Young Scientist Challenge.

Erica David advances to Washington, D.C., competition
Discovery selects "Final Forty" competitors in fourth annual Discovery Channel Young Scientist Challenge


Twelve-year-old Pinedale Middle School student Erica David was recently chosen from more than 1,700 entrants who advanced to the finals in the Discovery Channel Young Scientist Challenge (DCYSC). According the DCYSC's web site, the "Final Forty" "represent an elite group of young Americans who demonstrated exceptional innovation, creativity and communication skills in original science research projects."

David and fellow Pinedale student Kendall Brunette were among 400 students listed as semifinalists. The "Final Forty" were selected from the semifinalists to advance to the DCYSC National Competition Oct. 19-22, in Washington, D.C. Announced on Sept. 18, the winners will receive an all-expense-paid trip to the nation's capital, where they will compete for more than $100,000 worth of scholarships and special prizes as well as the title of "America's Top Young Scientist of the Year."

David's project, "Get the Drift", tested household substances to determine whether those that looked like snow would behave like drifting snow. The results helped her plan snow fences to "Get the Drift" out of her winter training areas.

After testing powdered sugar, powdered milk, flour, Cascade detergent, Cream of Wheat and cornmeal in a wind tunnel she constructed, David concluded that Cascade detergent produced the most closely matched drifts and would best aid her study of how to use snow fences in her training area.

David, who is the only Wyoming student chosen, will compete in the DCYSC's complex science challenges and will be judged on her scientific ability, leadership, teamwork and effective communication skills. With other final forty students, she will work as a real-life "spy kid" at the Central Intelligence Agency, study forensics with the Washington, D.C., Capitol Police Force; and fight cyber-crime alongside cyber-criminologists.

Other challenges test the students in the science behind emergency communications, and involve original research related to the environment and space exploration.

According to the DCYSC site, 17 states are represented and girls outnumber boys, with 21 females and 19 males ranging in age from 12 to 14.

Winners of the contest will be announced at the final challenge and awards ceremony at the National Zoo on Wednesday, Oct. 23.

DCYSC, the nation's premier middle school science contest, reinvigorates science learning at an age when interest typically begins to decline.

David, who is a member of 4-H and chess clubs, trains horses, plays the piano and clarinet, and enjoys skiing swimming and rock climbing. She is the daughter of Matt and Liz David of Boulder.

Photo credits: David Family Courtesy Photo

See The Archives for past articles.
---
Copyright © 2002 Sublette Examiner
All rights reserved. Reproduction by any means must have permission of the Publisher.
Sublette Examiner, PO Box 1539, Pinedale, WY 82941 Phone 307-367-3203
examiner@wyoming.com