From the pages of
Sublette Examiner
Volume 2, Number 2 - April 11, 2002
brought to you online by Pinedale Online
---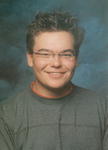 Jesse King is excited about the opportunity to compete in Australia.

King plans to head Down Under



Big Piney High School sophomore Jesse King has been invited to travel to Australia in July for 13 days to attend the second annual 2002 Parkroyal Down Under International Track and Field Games on behalf of International Sports Specialists Inc. and the Queensland Government of Australia. One of only two southwest Wyoming athletes chosen to participate, Jesse will be traveling with other Wyoming and Utah athletes; he will be under the coaching of Richard Baird.

The program is similar to the Down Under Bowl, but for kids involved with track and field. Those attending from America will have the opportunity to play against each other and most will have the chance to compete against Australian and New Zealand athletes and teams during the trip.

Jesse's 13-day trip will include one day in Sydney, seven days in Surfer's Paradise on the Gold Coast of Australia, and three days in either Honolulu or Caims, Australia, on the Great Barrier Reef.

Jesse, who is the son of Steven and Deena King of LaBarge, will compete in the discus and hammer throwing during competition.

He was nominated to participate in the games by the International Sports Specialists state coach because of his contributions to his community and other achievements.

Local businesses have donated sponsorship monies on Jesse's behalf to help offset the costs associated with this competition.

Photo credits: Jesse King photo courtesy King family

See The Archives for past articles.
---
Copyright © 2002 Sublette Examiner
All rights reserved. Reproduction by any means must have permission of the Publisher.
Sublette Examiner, PO Box 1539, Pinedale, WY 82941 Phone 307-367-3203
examiner@wyoming.com