From the pages of
Sublette Examiner
Volume 2, Number 19 - August 8, 2002
brought to you online by Pinedale Online
---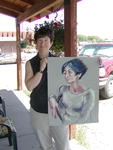 Local artist Sue Sommers shows her portrait of Elizabeth Poiret who was an artist/host with the French Paint Box.

The Ultimate Abstract Experience
Local artist receives unique art instruction in French countryside
by Kate Neely

We all have our niches in life, those "sweet spots" where we can lose ourselves, where we can escape the everyday whirlwinds of life and become immersed in our passions. It is important to nurture those passions, as local resident and artist Sue Sommers recently discovered. Ready for a personal escape and a time to completely devote herself to her passion of art, Sommers, a resident of Pinedale for almost 10 years, decided to search for some kind of artists' workshop in which she could totally lose herself in her art.

"All I really was looking for in the beginning was a place to sit and paint," she said. "I pictured myself in a flower garden, painting flowers all day."

What she didn't want was a school-type, educational program.

"I wanted to have a good time," she said. "I've been to school."

The workshop she ultimately found was about as far away from a school-type program as one could get. But what Sommers didn't expect was to stumble upon an adventure of complete spontaneity, freedom and inspiration ... the exact type of experience that captured her heart for two weeks.

In her search for the right type of program, Sommers came across a company through the University of Wyoming's art department's email service, a couple out of Santa Cruz, Calif., who were advertising for the "French Paint Box," an interactive program of painting workshops.

"Take your paintbox and go to France!" reads the organization's website (www.frenchpaintbox.com). The website advertises a "rejuvenating art education vacation" with "unique art instruction" and a goal to "return home from this artistic retreat seeing with new eyes."

What made this workshop stand out from others that Sommers was considering was the fact that artists were not judged based on their work, required to have a degree or expected to produce absolutely exceptional work. In short, it did not discriminate against amateurs.

Sommers joined seven other artists - women of all walks of life, from college students to retired adults - collectively from California, Wisconsin, North Carolina, Wyoming, Colorado and Toronto, Canada. Through the French Paint Box, the eight women traveled for more than 20 hours to Toulouse in south-central France. From there, they journeyed to a quaint village in the countryside called Labarthe-Bleys, where they worked with a local artists for two weeks.

Their host was abstract artist Elizabeth Poiret, and according to Sommers, she kept everyone interested and excited throughout their stay.

For two weeks, the women stayed in cottages, a bed-and-breakfast-type place, and, just as Sommers had hoped, spent the days immersed in the beauty of art. Typically, mornings consisted of art lessons and afternoons were free for painting, shopping or just being tourists and visiting neighboring cities touring cathedrals, museums and even ancient caves.

The "most spectacular tourist attraction" the group visited, Sommers said, was the Prehistoric Cave of Pech Merle, full of 30,000-year-old Neolithic paintings. One particularly amazing painting consisted of two horses marked with small handprints - unique signatures, perhaps, of the artists who created the work.

The first day of the workshop started out just as Sommers had imagined, as the artists spent the morning sitting in Poiret's flower garden painting flowers.

"We could just go out and experiment," she said.

However, the days following were full of surprises that blew Sommers' anticipations out of the water.

The second day found the artists working with large paper, painting ink washes of whatever they chose. Then, they would cut their masterpieces into small pieces, examining them for interesting brush strokes, splashes of color and abstract images. Other projects woven into the two weeks included painting freely on stretch canvas and adding authentic texture to the painting by, for example, sprinkling sand into the canvas' wet paint.

Actually, Sommers said that throughout the two weeks, she participated in many activities that she had heard about, but had never really tried; projects, she said, she would never have done had she not gone on the trip.

"It was more of a vacation than a school or education program ... a mix of work and fun," Sommers said, speaking of the experience as a whole. "It was the right blend of leisure and applying yourself."

One day, Sommers recalled, Poiret's husband, a poet, invited the group to their home/studio for lunch. Sommers said the group spent the afternoon helping him translate his French poems into English. In appreciation of the help, he gave each of the women a copy of his poems, which Sommers described as "beautiful" and "meaningful."

One part about the retreat that made it unique and special was the fact that each project was spontaneous and random; in fact, the organizers were very "hands-off," she said.

Because of the experience, Sommers said she has gained a more relaxed approach to her artwork; now, whenever she starts a project, she allows herself to be more relaxed and playful. She returned home with a newfound appreciation for the abstract side of art; because of the experience, she said, she has learned that it is not necessarily mandatory to have a clear idea of a project before starting it.

The retreat "reacquainted me with all possibilities (of art) and reminded me that I have to make time for it," she said.

"I always liked making art ... Art was always going to be a place where I could do what I wanted. I always wanted art to be a sanctuary for me," she said.

Now that she has returned to her Wyoming home, Sommers said she hopes to get more active and involved with her art, and she wants to start showing her works at more shows.

Reflecting back on the experience as a whole, Sommers said: "It's important to see how other people live ... we are one nation, one culture. It's definitely worth the trouble (to travel). But" she said, "it's a real relief to be able to go into a post office and it only takes three minutes to buy stamps."

Photo credits: Delsa Allen

See The Archives for past articles.
---
Copyright © 2002 Sublette Examiner
All rights reserved. Reproduction by any means must have permission of the Publisher.
Sublette Examiner, PO Box 1539, Pinedale, WY 82941 Phone 307-367-3203
examiner@wyoming.com