From the pages of
Sublette Examiner
Volume 2, Number 17 - July 25, 2002
brought to you online by Pinedale Online
---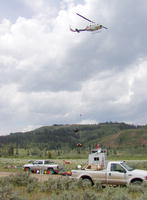 As we ate lunch, Dianne Boroff, Ralph Cullom and I watched this helicopter head off with its two-bag cargo. Some of the crews were going to spend the night on the mountain, and the chopper freighted their supplies. On a Type-II fire, none of the firefighters are transported with choppers or airplanes. Cullom said air support is the most expensive aspect of fire fighting.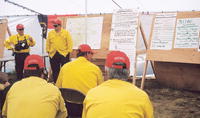 Meetings are held several times daily to coordinate fire-fighting efforts. This one, held at noon with about a dozen in attendance, was small; up to 100 leaders attend the 6 a.m. meetings. At this meeting, bear-proof storage and removal of a California crew were discussed. They also talked about making the transition to the local team prior to their departure for North Carolina.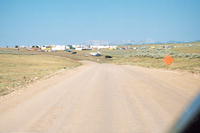 From several miles out, it was easy to see that I was going in the right direction. The Mule Fire Incident Command Post sits on BLM land near where the Ryegrass Road forks to either South Cottonwood or Cottonwood/Merna.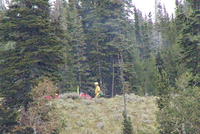 Spot crews and helicopters work together to put out hot spots that can't be reached. A helicopter with an 1,100-gallon bucket fills this large orange tank, and the crew uses a powerful pump to get the water to small spot fires with a hose. Hoses are also seen snaking through the grass and brush from small creeks up the hills to extinguish fires.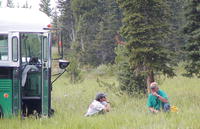 At the end of the trail into Spring Park, firefighters are dispatched to mop up hot spots and construct hand lines. Buses are used to transport the firefighters; the command team had rental vehicles, mostly SUVs from Budget Rental in Jackson, at their disposal. Ralph Cullom said the rocky terrain had resulted in several flats already.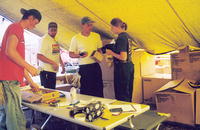 The largest of the tents in the 'town', the supply tents harbor everything from shirts and pants to batteries, pipe fittings, tents and sleeping bags, and even chain saws and Pulaski tools. Pulaskis are special tools named after the man who created them.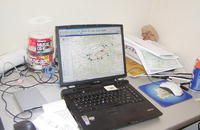 David "Booger" Fields provides computer expertise for the ICP, using highly technical mapping skills on a program called Artview. Along with a couple of laptops, Fields' trailer is home to a very impressive, four-foot-long printer for his maps.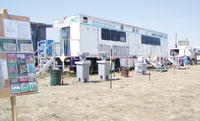 OKs Cascade, the catering service, served 575 meals for breakfast Monday morning, not including 30-plus members of the catering service. In addition to breakfast (which included a couple types of eggs, steaks and pancakes on Monday) and a large delicious night meal that includes an impressive salad bar, they provide sack lunches to make up the 7,000 calories required by firefighters.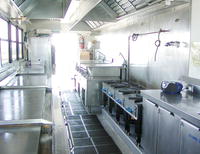 Meals are served through the windows in front of the grills, which are covered from end to end with flapjacks when breakfast is being cooked. Danny Frantz of North Carolina is the leader of the logistics section's food unit, and is in charge of ordering all the supplies. A Sysco semi was at the site when I arrived, and I was told that many things are purchased locally as well.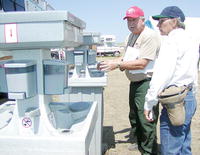 With more than 600 people in camp, most of who come from the fire lines all covered with soot, ash and dirt, cleanliness is a must. This type of wash station was also available at the helipad site north of the Sherman Guard Station, as were porta-potties. Shower units were brought in from Washington for all-over clean-up for the crews.

Mobile Command
A small town sprouts up in the middle of nowhere because of the Mule Fire
by Rhonda Swain

Who do you call when you have a big fire? And when that fire makes it necessary to call in almost as many people as reside in the town of Marbleton, which, by the way, is the second largest in the county, then what do you do? You call in the experts, of course, and in the case of the Type-II Mule Fire in the Merna/Horse Creek area, the experts are a team of about 50 people from North Carolina. This team coordinates the efforts of 20 or more 20-person fire-fighting teams hailing from Maine, New York, Michigan, Minnesota, Indiana, Pennsylvania and Maryland, and the personnel needed to sustain them.

Monday, at the invitation of Information Officer Ralph Cullom, Merna resident Dianne Boroff and I spent all day touring the "town" created by, and for, the firefighters, and the site of the fire. What I thought was going to be a tour lasting a couple of hours ended up lasting from 9:30 till 5:30, and left my head swimming with information.

In his 'other' life, Ralph is a district forestry supervisor in North Carolina who oversees eight counties, and he and his team will spend two weeks on the Mule Fire before being shipped back home. Hopefully, by next Wednesday when they leave, the fire will be transitioned to the local, Type-III fire team under the direction of U.S. Forest Service Big Piney District Ranger Greg Clark.

The fire fighting and operation of the entire site of the Incident Command Post (ICP) on Bureau of Land Management-administered land runs like a well-oiled machine. According to Ralph, all 'incidents,' in this case a fire, are treated in the same manner, thus a team from North Carolina can come to Sublette County and create a small town in the middle of nowhere to fight a fire in rugged terrain. The local emergency management-type situations are handled using the same set of rules and conditions nationwide, regardless of whether they are fighting fires, dealing with hurricanes or tornadoes, or flooding.

Originally, the Mule Fire ICP was set up at Sherman Guard Station, but was moved for several reasons, according to Ralph. First of all, the area wasn't large enough to accommodate the 600-plus people that would eventually descend on the area; second, when a spark-caused spot fire a-mile-and-a-half from the fire's origin caused the fire to blow up last Monday, smoke was causing breathing problems; and last, but certainly not the least, because the guard station sits in a hole, communications were almost non-existent. So last Tuesday, the camp was moved to its current site on Ryegrass/Cottonwood Road.

The ICP has everything from a communication post from Utah to a medical team and finance division, from showers and a catering trailer to supply tents and a place to purchase Mule Fire t-shirts. What I came away with most that day was that, above everything else, safety is the number-one priority in the camp and on the fire lines.

One female firefighter, who wasn't feeling real well, made her way onto one of the buses set to depart for the fire lines and hid out. When her division leader located her, he removed her from the bus and sent her to the medical tent. One California crew was sent to the Mule Fire with only two days remaining of their 14-day tour, and most were worn out; three of them were not sent to the line. At the noon meeting on Monday, a decision was made to send the team home for safety reasons.

Physical health isn't the only concern either. Human resource supervisor Sherry Neal of Ogden takes care of the mental/social issues, including organizing bingo games and karaoke to take the edge off the boredom.

Fighting fires in this day and age is not like it waswhen all the neighbors got together with buckets and shovels; part of the reason for that is safety, part of the reason is liability, both of which drive the cost of fire fighting sky high.

Fire fighting and the ensuing costs are controversial, to say the least, but this is an age when lawsuits costing millions are commonplace and so are homes costing that much. Involving 3,585 acres and with 65-percent containment as of Tuesday, the Mule Fire, according to Ralph, will probably wind up costing $2.5-million. But if the fire had gotten north of Horse Creek Road, east of Mule Creek or south of the Dry Beaver drainage, what could the price have been then?

Ralph commented several times about the high costs of sustaining the site and the people, but was not making excuses. He said the North Carolina team does its best to keep costs down, as do all incident command staffs, but the logistics of fighting fire now have changed. He commented on a Colorado fire several years ago in which several fire fighters died, saying that fire changed fire fighting in many ways, from making sure there is a safe escape route, to ensuring that no one remains on a fire for more than 14 days at a time.

Although I spent an entire day at the Mule Fire site, it only took a few minutes for me to come to the conclusion that there is more to fighting a fire than meets the eye.

See The Archives for past articles.
---
Copyright © 2002 Sublette Examiner
All rights reserved. Reproduction by any means must have permission of the Publisher.
Sublette Examiner, PO Box 1539, Pinedale, WY 82941 Phone 307-367-3203
examiner@wyoming.com