From the pages of
Sublette Examiner
Volume 2, Number 16 - July 18, 2002
brought to you online by Pinedale Online
---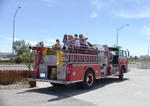 It's a toss up who enjoyed the rides more: the real firemen or the passengers. Thank you guys, the rides were great!

Catfun Fishraiser



According to John Ball, Fire Chief of Big Piney/Marbleton Volunteer Fire Department, the fry fundraiser started six years ago as a way to buy extra equipment that is not purchased with budgeted monies from the towns and county. The department purchases 200 pounds of catfish to put on the fry every year, usually on the second or third Saturday of July. The extras, to make it a well-balanced meal, are also purchased by the department and donating individuals and businesses. John "the Fireman" commented, "The Fry is just a great opportunity for the townspeople to get together and enjoy a good meal and tell stories. We appreciate all the donations and support."
| | |
| --- | --- |
| "Attention! Catfish Fry this way!" The welcoming crew Germany Eiden and Caitlin Haugh. | The townspeople enjoyed getting together and supporting the local fire department. |
Photo credits: Carie Whitman
See The Archives for past articles.
---
Copyright © 2002 Sublette Examiner
All rights reserved. Reproduction by any means must have permission of the Publisher.
Sublette Examiner, PO Box 1539, Pinedale, WY 82941 Phone 307-367-3203
examiner@wyoming.com