From the pages of
Sublette Examiner
Volume 2, Number 15 - July 11, 2002
brought to you online by Pinedale Online
---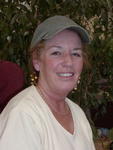 Ronnie Audevart

Why you should support MDA

by Cat Urbigkit

For baseball great Lou Gehrig, the year was 1939 when he voluntarily benched himself after months of watching his game decline, with stumbles, fumbles and struggles to hit or catch the ball. No one knew why - not even Gehrig when he benched himself. Two weeks later he was diagnosed with a progressive disease of the central nervous system. Two years later he was dead.

For Ronnie Audevart of Pinedale, the first symptoms appeared last June when her speech began to change. At first, it was believed she had suffered a stroke - a common misdiagnosis.

Ronnie underwent speech therapy, but didn't improve as her therapist believed she should. The change in her speech was slight and Ronnie really didn't have a lot of other symptoms at the time.

In March, Ronnie went to see a neurologist who performed a battery of tests and came to the conclusion that Ronnie's symptoms are the result of amyotrophic lateral sclerosis (ALS or Lou Gehrig's disease). It's a disease whose cause remains a mystery, as does a cure.

Ronnie's speech is now quite slurred, and making certain sounds is difficult, but this brave woman took the initiative to walk into the Sublette Examiner last week to conduct an interview to stress the importance for all of the community to give during the July 17 Muscular Dystrophy Association fundraiser in Pinedale.

MDA is a voluntary health agency providing support to sufferers of 43 diseases characterized by the progressive degeneration of voluntary muscles.

According to MDA, ALS usually strikes between the ages of 40 and 70, but can occur at any age, affecting men and women and all ethnic and racial groups.

About half the people diagnosed with ALS die within three to five years, usually from respiratory difficulties, although some with ALS live longer (10 to 15 years) and in a few cases, it appears the disease has gone into remission.

Early symptoms vary, but include tripping, dropping things, abnormal fatigue of the arms and legs, slurred speech, muscle cramps and twitches, and uncontrollable periods of laughing or crying. This weakening and paralysis of muscles spreads to the trunk of the body, eventually affecting speech, swallowing, chewing and breathing.

For the vast majority of people, their mind and thoughts are not impaired and remain sharp despite the progressive degenerating condition of the body.

For Ronnie, just a few months into her diagnosis, "the loss of speech is the most frustrating." MDA can help with that problem, contributing up to $2,000 toward the purchase of an alternative communication device for people whose neuromuscular disorders have robbed them of their speaking abilities.

Ronnie currently works at Sublette Head Start. Until this article, only a few close friends and the crew at the Pinedale Medical Clinic knew that Ronnie has ALS. She decided to go public to encourage people to donate to MDA and to help others suffering from ALS.

Ronnie feels "it is important for people who have it to have some kind of sense of hope.

"There are resources out there, but you have to take advantage of them," Ronnie said. "I can't travel from place to place and speak, so this is a way to reach more people."

Ronnie plans to move to Rock Springs at the end of the month. The move will put her closer to her grown children and doctors in Salt Lake City.

But MDA is hosting a fundraiser before then, on July 17, and Ronnie will be there to help and inspire. On that date, MDA will host a lock-up of local residents as a fundraiser, so if the phone rings and a friend or business associate calls from "jail" please give generously toward the bail money.

Sublette Examiner editor Rhonda Swain will be one of MDA's jailbirds, and is trying to raise bail now. Stop by the Examiner office at 219 East Pine, Suite 109 in Pinedale, or mail your tax-deductible contribution made out to MDA, c/o Sublette Examiner, P.O. Box 1539, Pinedale, WY 82941-1539.

Money contributed to the MDA is well spent: Money Magazine ranks MDA as one of the 10 top charities, with more than 84 cents of every dollar going directly to program services.

Photo credits: Cat Urbigkit

See The Archives for past articles.
---
Copyright © 2002 Sublette Examiner
All rights reserved. Reproduction by any means must have permission of the Publisher.
Sublette Examiner, PO Box 1539, Pinedale, WY 82941 Phone 307-367-3203
examiner@wyoming.com