From the pages of
Sublette Examiner
Volume 2, Number 15 - July 11, 2002
brought to you online by Pinedale Online
---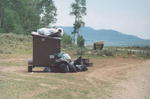 As Bridger-Teton National Forest officials consider imposing a food storage order so bears aren't attracted to human food and garbage, the agency neglected to take care of forest service dumpsters in the Upper Green during the long holiday weekend.

Garbage disposal low priority

by Cat Urbigkit

Garbage pickup on the Bridger-Teton National Forest took a backseat to firefighting efforts, as evidenced by the heaps of garbage overflowing Forest Service dumpsters in the Pinedale Ranger District last weekend.

Overflowing dumpsters were reported in several areas, including the Upper Green River and New Fork Lakes areas.

When shown photographs of the dumpsters Monday, Pinedale District Ranger Craig Trulock said, "That is because these people were committed to logistics on the fire."

The Forest Service personnel assigned to empty the dumpsters were assigned to driving supplies for the wildfire located near Boulder, so the dumpsters simply didn't get emptied and the garbage continued to accumulate over the long Independence Day weekend.

"The fire came first over trash collection," Trulock said. "Through Sunday, our number-one priority was to work on the fire."

As reported last week, the Bridger-Teton and Shoshone national forests have been working on infrastructure and educational efforts to have visitors to the forest practice clean camping and safe food storage.

Earlier this year, U.S.D.A. Forest Service officials proposed instituting a food storage order for the majority of the two western Wyoming forests. The order requires that all food, refuse or carcasses be hung above ground, be placed in hard-sided vehicles, or otherwise be placed out of reach of bears. The resulting public outrage over the proposed order was a factor in the agency deciding to delay implementing the order until a later date.

The food storage order may still be enacted this summer, according to Forest Service officials.

Trulock said if there were bear problems already this year, his agency's priorities for garbage disposal would have changed.

"If we would have had a bear problem ongoing, it would have become a priority," Trulock said.

Trulock said his agency is working to identify a cadre of people throughout the forest who can be called on to provide driving services to assist firefighting efforts should further wildfires occur on the forest this year.

"Hopefully, it wouldn't be the 'rob Peter to pay Paul' thing again like we were in this time," Trulock said.

Photo credits: Cat Urbigkit

See The Archives for past articles.
---
Copyright © 2002 Sublette Examiner
All rights reserved. Reproduction by any means must have permission of the Publisher.
Sublette Examiner, PO Box 1539, Pinedale, WY 82941 Phone 307-367-3203
examiner@wyoming.com