From the pages of
Sublette Examiner
Volume 2, Number 14 - July 3, 2002
brought to you online by Pinedale Online
---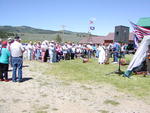 Judy Martin led the noon church service while the band Wyoming Red played for the services and the following barbecue. The services were held outside, so that people could eat in the cool shade of the church.

On 'Cue!

by Deanne Swain

The 62nd annual Bondurant Barbecue was held on Sunday at the historical St. Hubert the Hunter Church with hundreds of people in attendance, enjoying good food and lots of socializing.







Click for larger view
Cole and Ethan Shortridge have it made-in-the-shade waiting for the feast. Their parents, Sue and Daniel, and sister, Danielle, joined them.

Click for larger view
Max Borino and Tom Filkins are part of the boning crew - not that there was much to bone - the meat fell right off of the bones. Gary Endecott and Bill Saunders were also part of this team. Working the barbecue is a family affair for many involved in the annual event.

Click for larger view
Toni Paravicini keeps the dessert table filled with a wide variety of homemade desserts as Betty Wardell and Melita Snow make their way down the chow line.

Click for larger view
The beef, donated by the Campbell family and Wagstaff Ranches, was cooked in a huge pit, which the volunteer meat crew, Eric Schneider, Mort Yoakum, Jake Filkins, Joe Lincoln III and Tony Saunders, uncovers, enveloping the area with the savory smell of cooked beef. Flowers were donated by CK Nurseries, Kim and Marlene Stratton, firewood was donated by Tom Clover.
Photo credits: Deanne Swain
See The Archives for past articles.
---
Copyright © 2002 Sublette Examiner
All rights reserved. Reproduction by any means must have permission of the Publisher.
Sublette Examiner, PO Box 1539, Pinedale, WY 82941 Phone 307-367-3203
examiner@wyoming.com